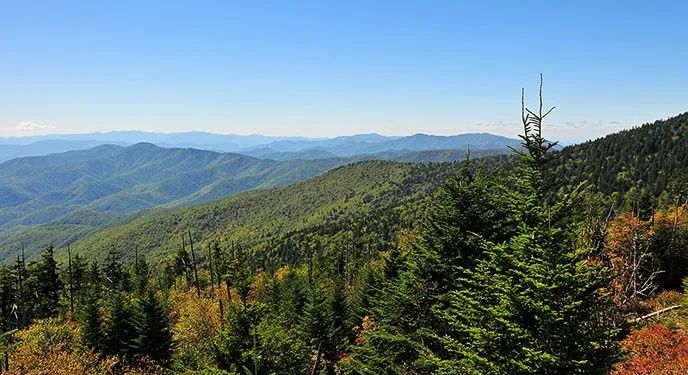 Affordable and Luxurious Great Smoky Mountain Vacations
November 2, 2019
When many hear of a Smoky Mountain Vacation they may picture rustic cabins, hunting or animal watching, perhaps a lazy walking trail or two, and a whole lot of peace.
While peace is plentiful in many areas of the Great Smokys, there is also a plethora of highly active entertainment that will leave you with a thirst for adventure long after you make your way back home, including:
Biking on some of nature's most beautiful trails
Fishing
Hiking lovely trails made safe for pedestrians and bikers
Tubing
In addition, front country and backcountry camping, as well as group campgrounds are available all throughout the Smoky Mountains.
Camping fees begin at $14USD for front-country camping and starting around $35USD for group campsites. Rentals for equipment such as bikes or tubes are also relatively affordable but you do have the option to bring your own.
Luxurious Great Smoky Mountain R & R
If you're looking for that ultra-relaxing vacation, and the need for some self-imposed cabin fever, you can find cabins all over the Great Smoky Mountains. Depending on how "rough" you want to get, you have a wide comfort choice -- from cabins that offer only the most basic of necessities, to the most lavish amenities imaginable. Pigeon Forge and Gatlinburg are both quite famous for their cabins that can accommodate a romantic couple's generous requirements to a group's abundant needs equally well.
Want to live it up while you're here? Be sure to include some of these awesome vacation activities:
ATV Trail Blazing
Boating
Golfing
Horseback Riding
Kayaking
Whitewater Rafting
Wineries and Breweries
Zip Lines
Auto Tours
These are just some of the activities that make the Great Smokys' a priceless experience you'll remember for years to come.
A Smoky Mountain Wedding Affair
Second, only to Vegas in choices of places to marry, the Great Smoky Mountains offer the chance to tie the knot in beautiful chapels all over the area. Couples can also marry in the National Park or even the privacy of their own cabin or cottage. There are many locations in the National Park that are popular for Smoky Mountain Weddings:
Primitive Baptist Church
Methodist Churches of Cades Cove
The Mountain Top of Your Choice
But whatever your choice, do remember to request an application for a permit to have a ceremony in one of the natural churches or any historic structure in the park. If you are considering a Great Smoky Mountain Wedding, make sure to call the Park Rangers Activities Division at 423-436-1266.
All visitors should keep in mind that the structures in the park are all-natural. These wooden structures do not allow any usage of candles or lamps for your ceremony.
Live Entertainment
You can expect to find live musical entertainment in places like Bryson City, Cherokee, Stecoah, Dillsboro, and Franklin. Live bands playing everything from blues, jazz, and country entertain crowds every night with top performers such as Trace Adkins and others who enjoy their Smoky Mountain tours as much as those who choose it as a vacation destination.
Dining and Shopping in the Smokys
The Great Smoky Mountains offers dining and shopping opportunities like no other place on earth.  The Native American Craft Shop in Cherokee, North Carolina offers visitors the chance to view the Southeast's largest collection of crafts hand-fashioned by Native American Cherokees who own and operate the establishment. Regardless of the length of your vacation here, you will surely treasure every moment spent in the Great Smoky Mountains for a lifetime. Unforgettable beauty and adventure await you around every turn, and over each soaring majestic mountaintop.