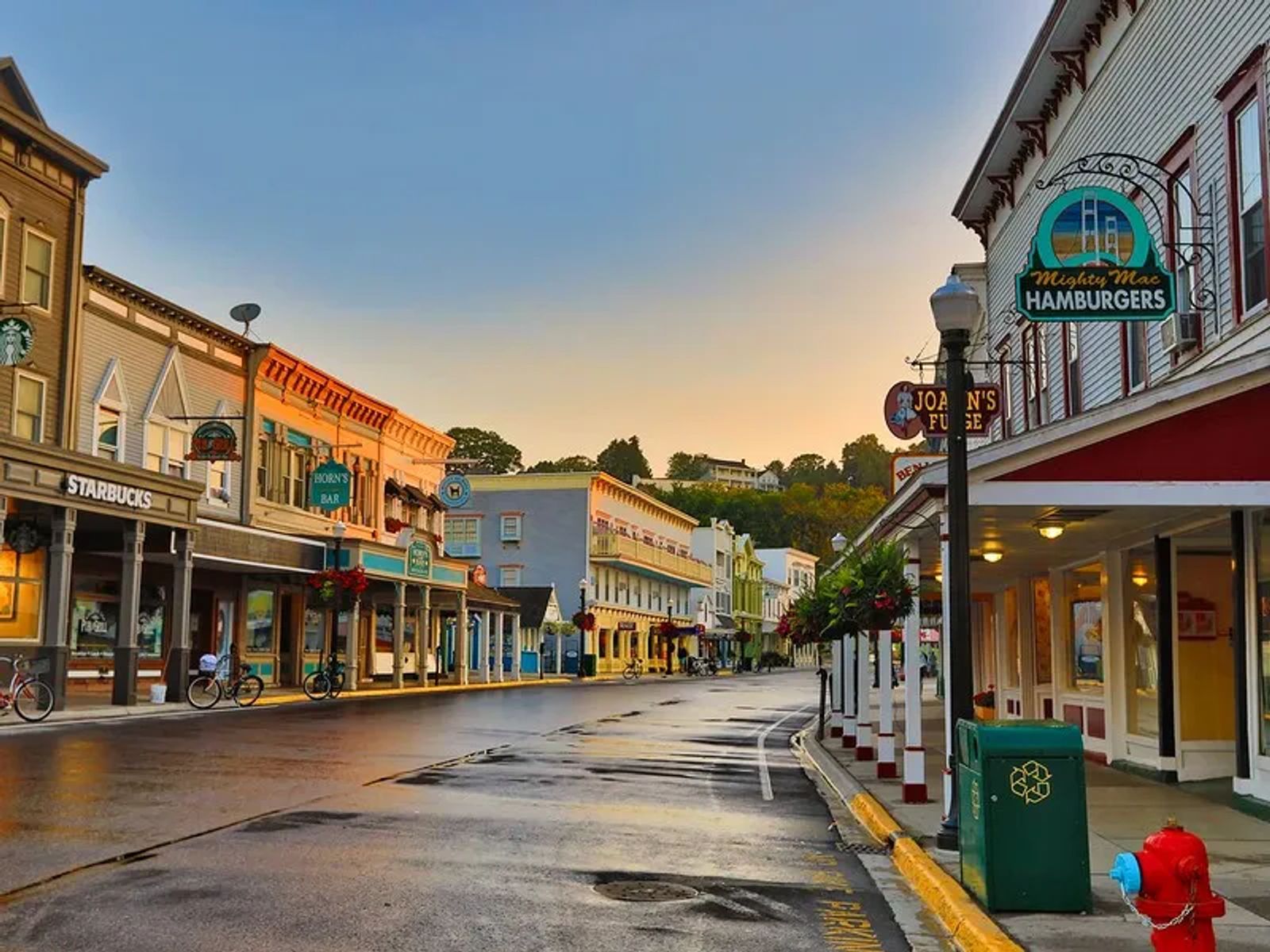 A Car-Free Vacation
September 3, 2019
Want to really get away from it all? Away from computers, away from the phone, and even away from... cars?
If you're ready to say buh-bye to traffic jams, parking tickets, and high gasoline prices on your next trip, here are a dozen beautiful vacation spots where horses, bikes, golf carts or walking shoes are the transportation of choice.
Mackinac Island, Michigan
1. Mackinac Island, Michigan
Visitors to Mackinac island in the Straits of Mackinac (pronounced MACK-in-naw), between the Upper and Lower peninsulas about 285 mi/460 km north of Detroit, can step back in time. Autos may have made Michigan's fortune, but they're banned from this island—horse-drawn carriages, saddle horses, bicycles and walking are the only means of transportation.
Although many visitors see the island on a day trip, we recommend spending at least one night there. The lodging isn't cheap (though you may find some bargains in early spring and late fall), but it's worth it.
Once the throngs of day visitors depart, the island becomes even more like the 1800s: The streets are dark and largely empty, and the utter quiet is broken only by the occasional sound of clomping hooves. An overnight stay will also give you more time to see the island's sights.
Monhegan Island, ME, Photography by Navin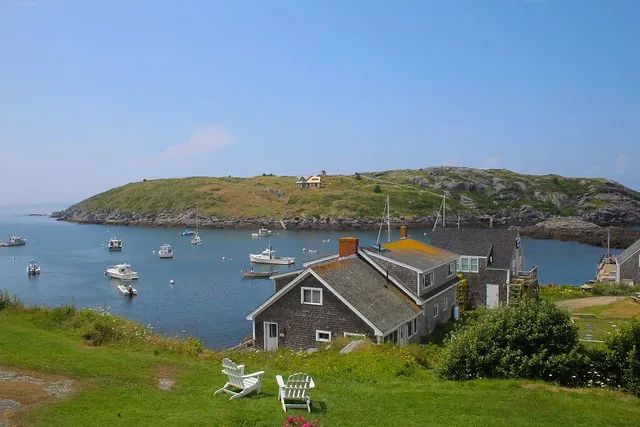 2. Monhegan Island, Maine
Artists and urban-dwellers have been seeking refuge on Maine's car-free Monhegan Island for years, drawn in by its rugged terrain and timeless solitude. Photographers will find Lobster Cove hard to resist, with its many flat rocks on which to set up shop and capture the surf and even a shipwreck. Anyone interested in learning about the history and culture of the area can head to the Monhegan Museum, set in what was once the home of the lighthouse keeper and showcasing the works of many local artists. In fact, an artists' colony on the island has been in existence for more than 100 years, with several works available for purchase at the numerous artists' studios – an artistic reminder of the island's peace and tranquility is guaranteed to top the typical gift-shop coffee mug, hands down.
Catalina Island, Photography by Joyce Collins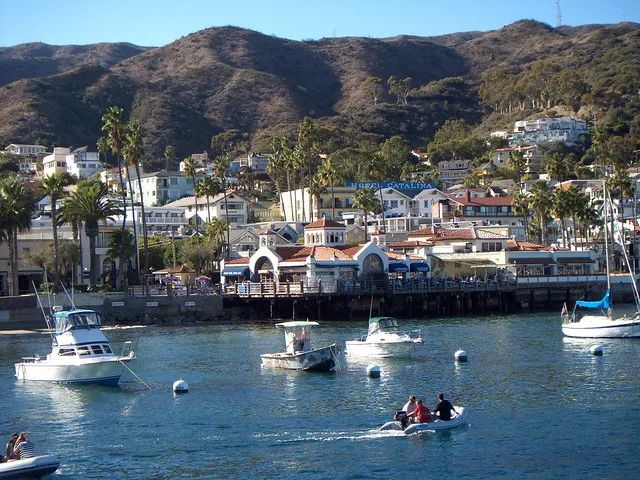 3. Catalina Island, California
Catalina Island lies 22 mi/35 km off the Southern California coast, but it feels like a world away. Just the name conjures images of the quaint seaside village of Avalon, picture-perfect harbors and sandy beaches. Catalina is everything that Los Angeles is not—small-scale, nostalgic and slow-paced—and therein lies its charm.
Visitors often compare the island's compact town of Avalon with Amalfi, Italy, or a resort town on France's Cote d'Azur. Perhaps it's those rocky palisades rising from the sea that suggest a Mediterranean locale. Or maybe it's the tiled fountain, quaint storefronts, and the Moorish-style casino. Foreign visitors have been known to ask local shopkeepers whether they accept U.S. currency. In all, the island promises a delightful departure from urban inconveniences—the more so because Catalina, alone in Southern California, disdains the automobile.
Lake Erie Islands by David Fulmer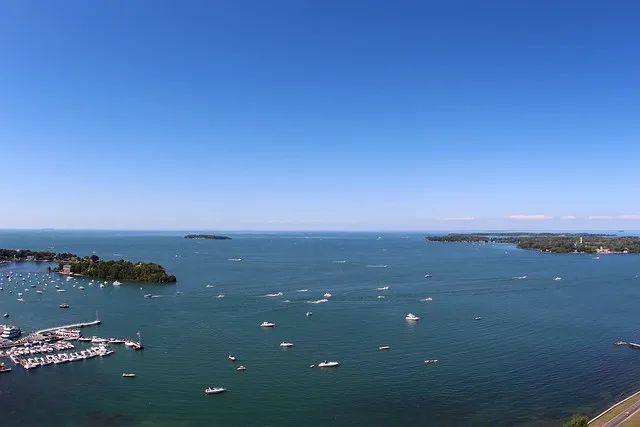 4. Lake Erie Islands, Ohio
Situated across from Cedar Point Amusement Park on Lake Erie, Put-In-Bay and Kelleys Island (part of Ohio's collection of islands) do not require a rental car when visiting. While vehicles are permitted on the islands and can be transported via ferry, golf carts are actually the best way to get around. Since the carts can be used on actual roadways, a valid driver's license is needed to drive one. Families will love carting around town to explore the caves, wineries, and lighthouse. Bikes and walking are also great ways to get around either town. And when it's inevitably time to visit the "Roller Coaster Capital of the World," you can ferry over to Cedar Point Marina with ease.
Bald Head Island, NC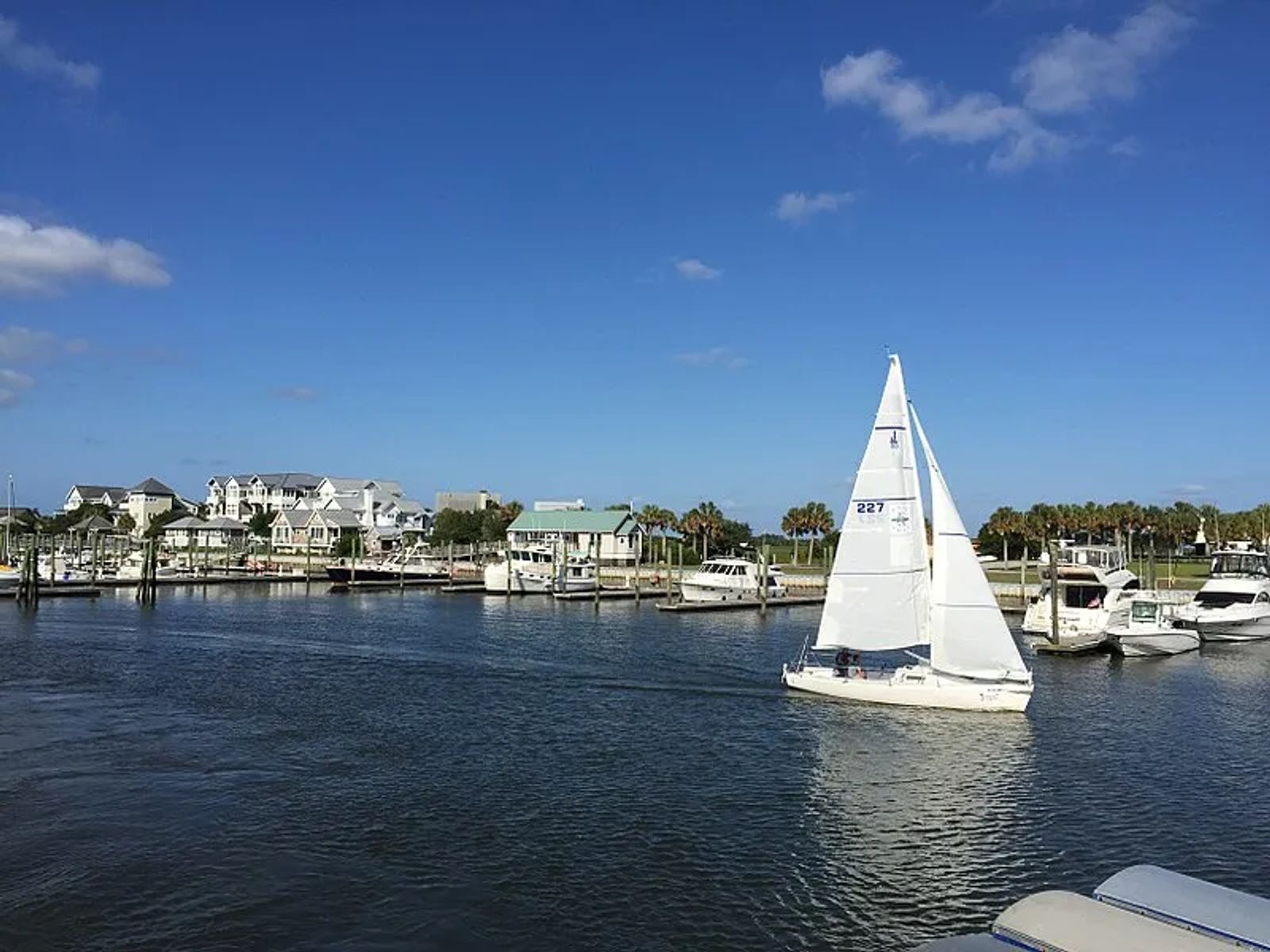 5. Bald Head Island, North Carolina
Located at the tip of Cape Fear and accessible only by boat, Bald Head Island boasts a rich history — it played a part in two American wars and was once a pirate hideout for the likes of Blackbeard and Stede Bonnet.
Today the island is still the most secluded of the Brunswick Islands, offering a quiet, picturesque vacation destination. It's only reachable by ferry and no cars are permitted. In fact, more than 80 percent of Bald Head is conservation land where visitors can enjoy nature hikes and view sea-turtle nesting areas, but the only way to get around is by foot, golf cart or bicycle.
San Juan Islands, Washington, Photography by Jeff Gunn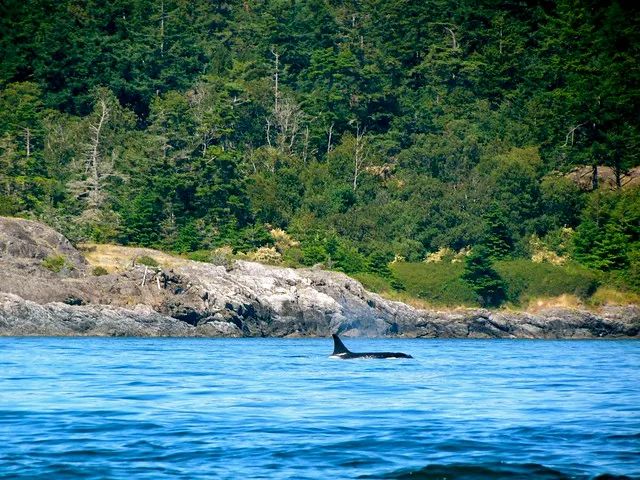 6. San Juan Islands, Washington
These 172 spectacular islands—lodged between the Olympic Peninsula, northern Puget Sound and Vancouver Island, approximately 70 mi/115 km northwest of Seattle—are a must-see for any visitor to Washington. Fishing villages dot the coves, embracing a simpler time, and many artists reside on the islands, drawn by the scenery and solitude. At the very least, take the four-hour ferry ride through the archipelago. The boats depart from Anacortes.
Bald eagles and orcas frequent the cool waters of Puget Sound near the islands, and the west coast of San Juan Island is one of the best whale-watching points in the U.S. Sightings are most common in summer when orcas hunt in groups (called "pods"). You can sometimes spot whales from the shore at Lime Kiln State Park.
Go bike riding (Lopez Island is the best) along the winding coastal roads, and go beachcombing after storms. Keep an eye out for eagles, deer, seals, porpoises, and otters.
San Juan Island National Historical Park documents an anticlimactic clash between U.S. and British forces in the mid-1800s. The "Pig War" started over a hog and ended with a standoff that redrew boundary lines. Another possibility is the Whale Museum (phone 360-378-4710; http://www.whale-museum.org) in the village of Friday Harbor.
Orcas Island is the most scenic of the four ferry stops, with rolling hills and the 2,400-ft/730-m Mount Constitution. The mountain is the centerpiece of Moran State Park, a place of hiking trails, forests, and waterfalls.
Sea kayaking is another great way to see this part of the state and allows for up-close observation of the wildlife. The Cascadia Marine Trail, a 150-mi/240-km route from Olympia to the border with Canada, runs through the San Juans.
South Padre Island Fire Walk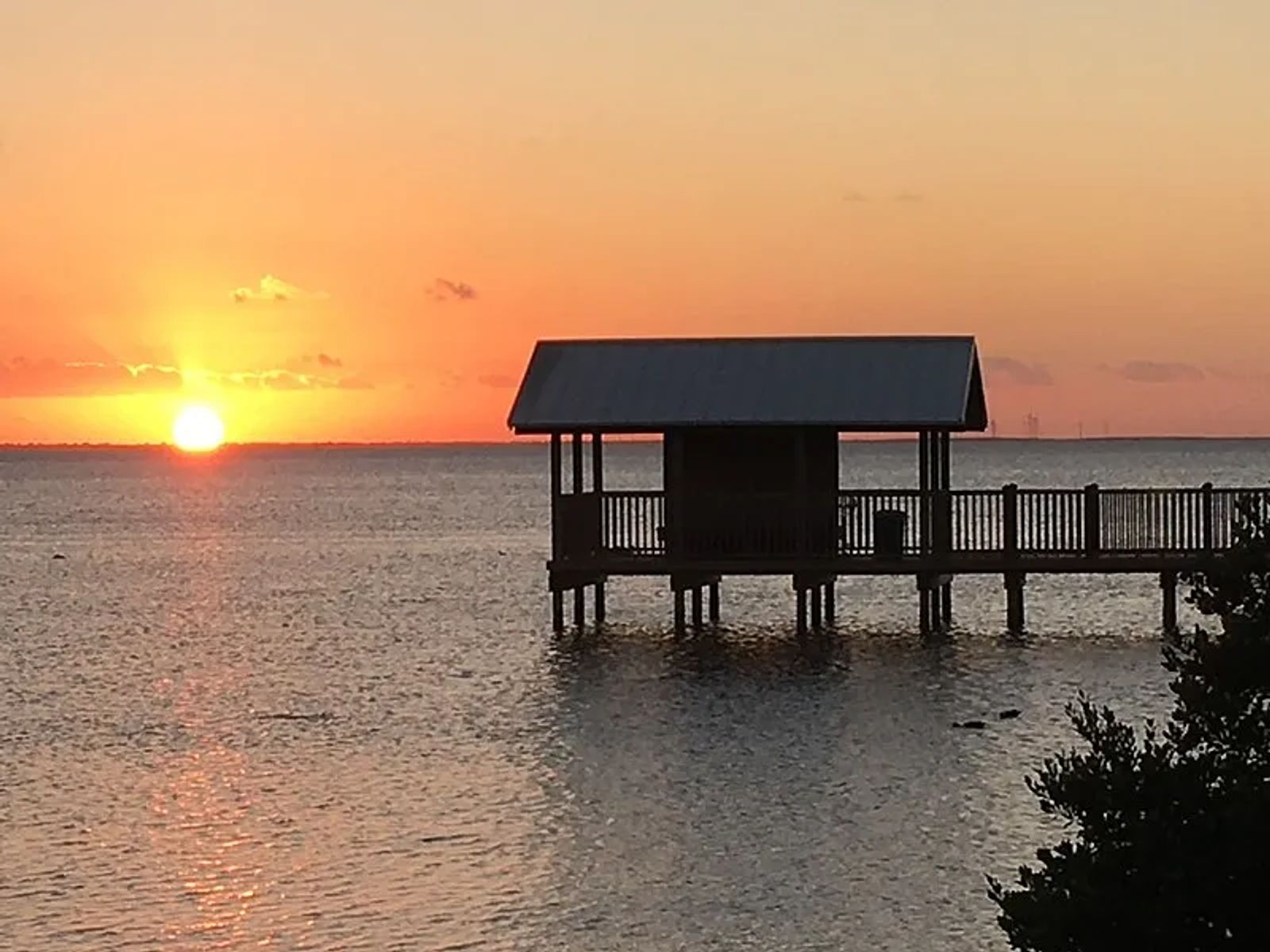 7. South Padre Island, Texas
This 1.8-square-mile barrier island along the Texas Gulf Coast may be best known for its bawdy spring break ritual, but the island equally boasts experiences for couples, families, and just about everyone in between – all within a compact stretch of surf and sand.
The Island offers thousands of hotel rooms, motel rooms and condominiums to rent and all the amenities and recreational activities you could want at a beach resort -- boating, swimming, fishing, surfing, sailboarding, beachcombing on long white beaches, birding, camping, in-line skating, parasailing, bungee jumping and eating and drinking. You could even sign the kids up for a sandcastle-building contest.
Side trips include visits to Matamoros, Mexico (across from Brownsville), or the Laguna Atascosa National Wildlife Refuge, a 7,000-acre/2,800-hectare marshland that's home to thousands of waterfowl, as well as coyotes, javelina, bobcats, and deer.
Nantucket Historic District, Photography by Daryl Grider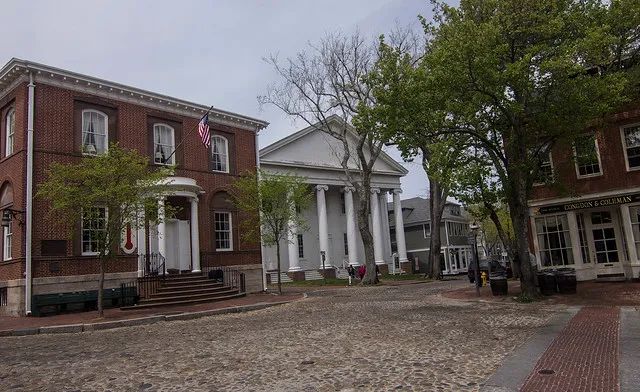 8. Nantucket Island, Massachusettes
Not designed with cars in mind, Nantucket's narrow cobblestone streets are best explored on foot or by bike. Follow the island's winding lanes past historic clapboard homes of sea captains and pre-Civil War buildings – many of which are now home to boutiques and galleries, as well as the island's famous Whaling Museum (housed in an 1847 candle factory).
The island sits at the confluence of two bodies of water, 30 mi/48 km out from the mainland. The north side faces the gentler waters of Nantucket Sound, its main harbor nestled within the protection of a barrier beach. Facing south and up around to the northwest are the more temperamental waters of the wild Atlantic Ocean.
At Nantucket's northwestern peak, Great Point is the long swath of sand and stunning beach that ends where the waters meet, tangling together in frothy, dangerous tumult. For years, the island's position demanded a life dependent on the sea, a legacy that continues to shape its fortune.
Visitors to Nantucket are drawn by the island's rich and storied history and its distinct culture, shaped and beautifully preserved by its isolated location at sea. The entire island is a National Historic District because of its wealth of architecture dating back to the 18th century. There are more than 800 buildings on Nantucket that predate the Civil War, a distinction that even historic Boston can't surpass.
Halibut Cove, Alaska, Photography by Andrew E. Russell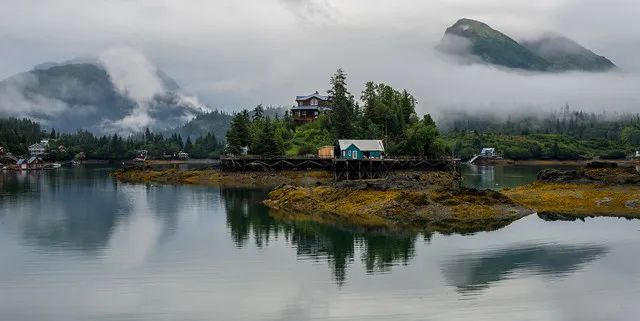 9. Halibut Cove, Alaska
Located in Alaska's Kachemak Bay State Park, Halibut Cove is nestled among mountains, glaciers, and forests and is accessible only by boat. It's home to just 38 people, according to the 2010 Census, and one of the only floating U.S. post offices is located here, along with a popular floating coffee shop. The cove is lined with stores, cabins and art galleries, which are also accessible only by boat, and you're likely to see a variety of wildlife, including sea otters, harbor seals, and humpback whales.
Tangier Island Virginia Photography by J. Albert Bowden II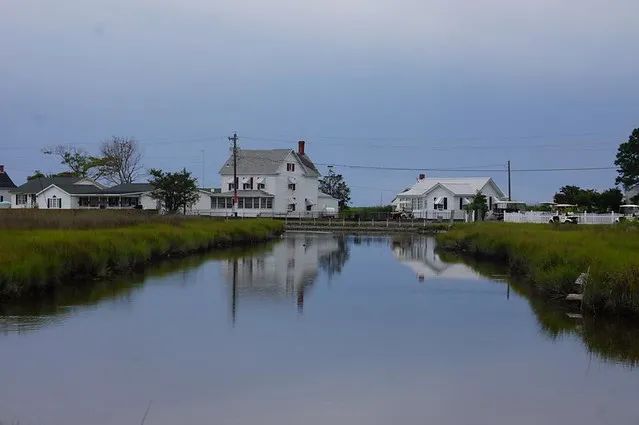 10. Tangier Island, Virginia
There are few cars — but plenty of golf carts — on this 3-mile-long island in the Chesapeake Bay. Boating, biking, crabbing, and kayaking are popular activities. Tangier Island truly feels like a world unto itself because of its isolated locale and its history. British forces used it as a staging ground during the War of 1812, and the island's residents speak with a distinctive Cockney accent.
Daufuskie Island, South Carolina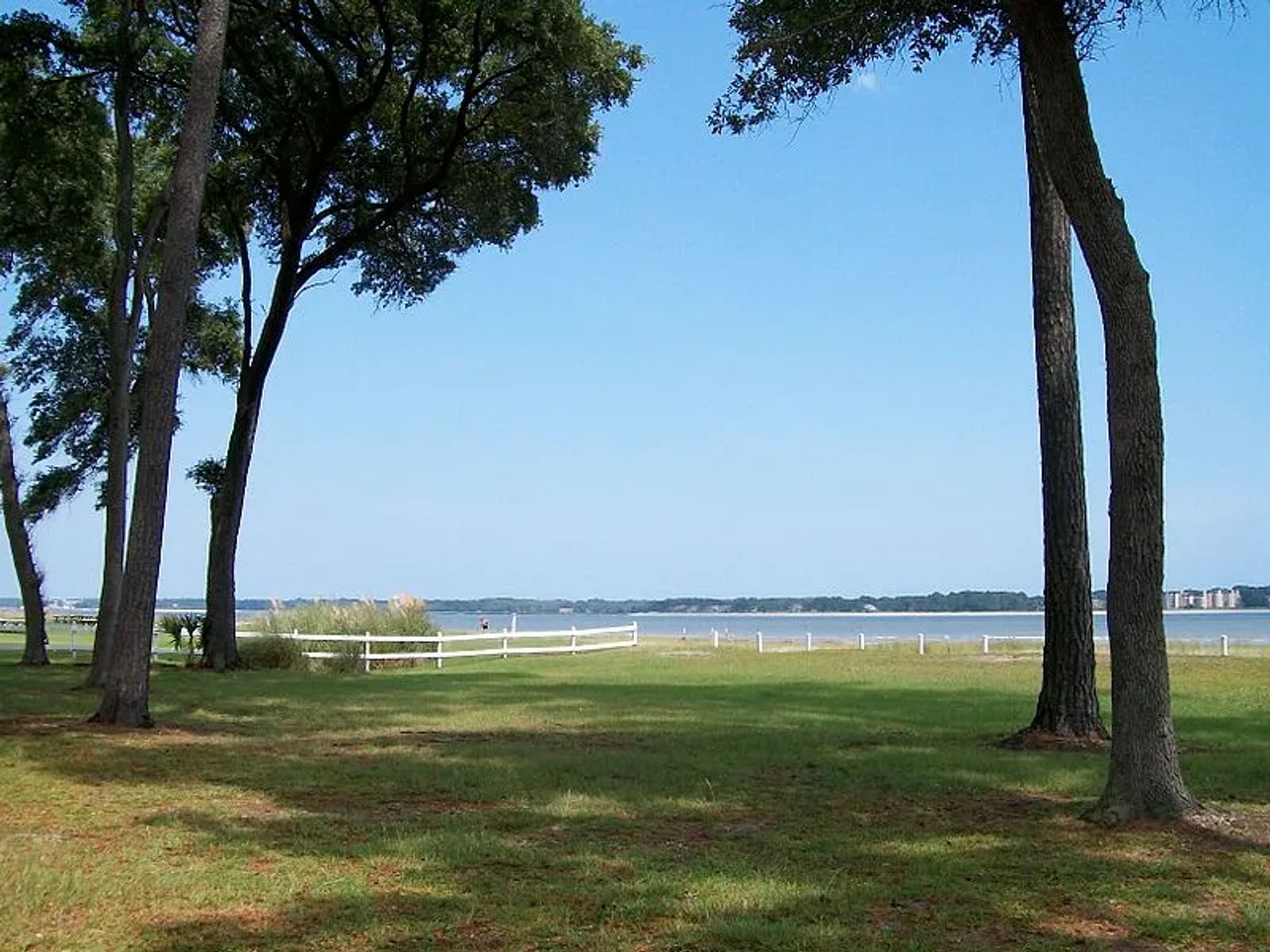 11. Daufuskie Island, South Carolina
Without a bridge to the mainland and only a few paved roads, Daufuskie Island harkens back to a simpler time. This small wooded isle is located between Hilton Head, S.C., and Savannah, Ga., and is accessible only by boat. Golf carts and bicycles are the only forms of transportation on the island, but what makes Daufuskie truly unique is its Gullah population. Gullah are descendants of freed slaves, and the inhabitants' culture is evident in the island's food, music, and local art.
Although the island is mostly undeveloped, it does have a resort, two golf courses, and a local art gallery. White sand beaches, ancient oaks, Spanish moss and historical landmarks all lend a deep country feel, while the eclectic arts scene keeps the spirit of the island alive and thriving.
Smith Island Pelicans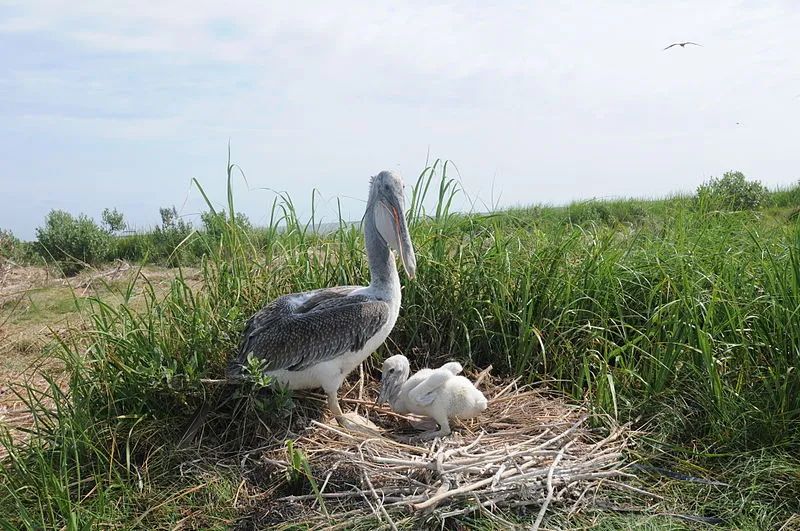 12. Smith Island, Maryland
Smith Island is Maryland's only inhabited offshore island in the Chesapeake Bay, but it's actually composed of several islands. In the last 50 years, the island has lost more than 3,000 acres of wetlands due to erosion, and restoration efforts are underway to restore the island and prevent further erosion.
Smith Island is a good place to bicycle, listen to the gulls, watch sunsets and learn about the work of the Chesapeake Bay watermen. Residents have been harvesting seafood from the bay for generations (settlement began in 1657, and a bit of the original settlers' English accent can still be heard in the voices of some of the 400 residents). There are no supermarkets, no police and little worry about crime.
An active fishing community that boasts some of the nation's best crab cakes, the island is also the birthplace of the Smith Island Cake, which was declared Maryland's state dessert in 2008. The famous dish features six-15 thin layers of cake filled with frosting — but locals say it's the cooked chocolate icing that really makes the dessert unique.