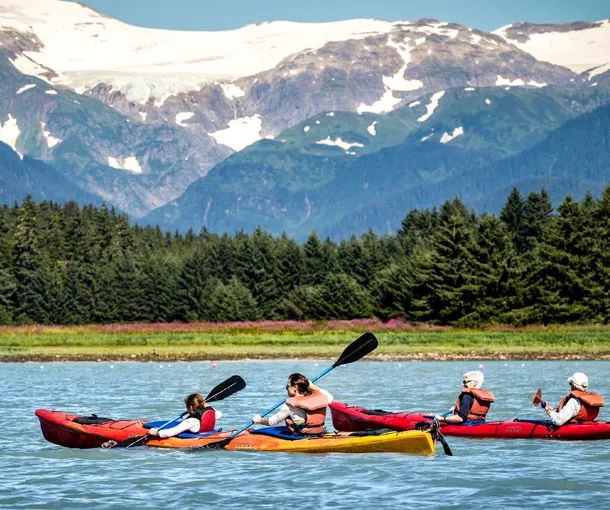 Alaskans are outdoor people. In summer, they are on the trails or on the water. This is the time for fishing, boating, biking, hiking and playing outside.
In winter, Alaskans fire up snow machines, ski, go ice fishing or mush their sled dogs. People who live in Alaska say there's no bad weather, just bad clothes.
Wondering what you might do on a trip to Alaska? Here are some ideas to get you started:
Sightseeing
Visitors can choose from a variety of ways to see Alaska. Water lovers should boat through Glacier Bay and the College Fjords glaciers, fish for salmon and halibut or go whale-watching.
Adventurous types can combine a helicopter flight with dog sledding on a glacier or participate in a blanket toss in Barrow. Some hike the historic Chilkoot Trail or hop on the Alaska Railroad. There's so much to see and do in Alaska that it may take several trips to experience it all.
Alaska's museums are vital parts of many Alaska communities and are as diverse as the state they chronicle. They celebrate the state's gold rushes, wildlife, geography, pioneers, aviation, fishing and Alaska Native heritage. Be sure to visit Anchorage's Alaska Native Heritage Center, the Anchorage Museum and the Alaska Aviation Heritage Museum, the University of Alaska Museum of the North in Fairbanks, Juneau's Alaska State Museum, Skagway's Klondike Gold Rush National Historical Park, and the Sheldon and Hammer museums in Haines. The Alaska Zoo in Anchorage gets sightseers close to any animals they may have missed during their travels.
Be sure to sip an internationally acclaimed beer from one of Alaska's excellent breweries. Choose from the Moose's Tooth, King Street or Midnight Sun brewing companies in Anchorage; Silver Gulch in Fairbanks; and Alaskan Brewing and Bottling Company in Juneau. Kodiak Island, Skagway, Kenai, Homer, Seward, Soldotna, and Haines all have their own brews, as well.
Fishing
So many Alaskans fish in the summer that it's hard to think of it as recreation, especially because the fish that are caught are an important food source in the winter. Sport fishers also have a variety of world-class fishing options.
All five species of salmon are plentiful in the salt waters of southeast Alaska in the summer (king and coho are the most treasured), although the biggest kings (up to 90 pounds) usually are caught on the Kenai River south of Anchorage. The Kenai is also where the term "combat fishing" was coined: Anglers stand literally elbow to elbow on the river in July and are more likely to hook each other before they hook a monster king.
For many saltwater enthusiasts, catching a halibut—a bottom fish that can weigh up to 400 pounds—is an unforgettable experience. The best halibut fishing is around Homer and the lower Kenai Peninsula, but they are common around most of Alaska's coastal communities.
For freshwater enthusiasts, just about every variety of trout is plentiful in most Alaskan lakes. Fly fishers particularly enjoy battling the steelhead runs in the coastal streams of Alaska from south of Ketchikan to Cold Bay on the Alaska Peninsula. Fly fishing Alaska-style often combines a floatplane flight with fishing in a remote lake or stream. Just remember to get your fishing license before wading into the water. Alaskans take their laws seriously, and the fines for fishing out of season or without a license are significant.
Walking and Hiking
Virtually every Alaskan community offers a variety of hiking experiences, from short hikes to viewpoints to longer day trips to overnight wilderness adventures. As such, the trails range from clearly marked and well-maintained to nearly impossible to follow, particularly in the dense underbrush of the Tongass and Chugach national forests.
It's best to hike longer trails with a guide or someone who knows the area. Wear layered clothing, including a waterproof—or at least water-resistant—hooded jacket or a hat, and take insect repellent and a head net for hikes in the interior of the state.
Unfortunately, the numerous hiking opportunities also lead to trouble for the unwary or inexperienced. People do get lost and people do die every year in the Alaskan outdoors. It is crucial to stay on the established trails and to use up-to-date maps when going cross country. Most communities have U.S. Forest Service offices. Contact them before heading "into the country."
Scuba and Snorkeling
Diving and snorkeling are popular, particularly in southeast Alaska where, despite the 40-50 degrees F/4-10 degrees C summer waters, wall diving, sea life and a large number of shipwreck sites are attracting more visitors.
Contact local dive shops for up-to-date information on dive sites, conditions and cold-water diving gear. The outer coast has the best visibility.
Skiing
Alaska's got snow and mountains, so it's no surprise that the state has skiing, both downhill, and cross-country. Most of Alaska's downhill ski resorts are convenient to major metropolitan areas, but there are limitless skiing and snowboarding on remote slopes that can be reached only by helicopter.
Alyeska, the largest alpine ski area, is only about 40 mi/65 km southeast of downtown Anchorage. Located in Girdwood, the 4,000-ft/1,220-m mountain provides a challenge to all levels of skiers and snowboarders. More than 70 trails wind through tree-lined slopes and open bowls, and nearly half of the trails are for advanced skiers. Because of the warm currents of the nearby Pacific, temperatures are surprisingly moderate and can lead to icy snowpack.
Two ski and snowboard areas are on the outskirts of Anchorage: Hilltop Ski Area and Alpenglow at Arctic Valley. Both areas are quite small, but their proximity to Anchorage makes them popular, especially with beginners and families. There is also world-class cross-country skiing at Anchorage's Kincaid and Hillside parks.
Only 20 minutes from Juneau, Eaglecrest Ski Area offers the opportunity to ski with bald eagles soaring overhead. Eaglecrest is relatively small with just 36 trails, but the skiing is superb for all skill levels, and the mountain, glacier and ocean views are spectacular. Tubing and cross-country skiing are also popular there. Lodging is available in Juneau. A special skiers' shuttle bus departs regularly from the city.
Further north, near the Arctic Circle, check out the small alpine ski area Mount Aurora Skiland, offering beginner to advanced skiing and rentals on-site. It is located 20 mi/32 km north of Fairbanks on the Steese Highway; turn off on Skiland Road. Another fine alpine ski area is Moose Mountain, 15 mi/24 km northwest of Fairbanks on Sheep Creek Road. Cross-country skiing, however, is far more popular in this area. There are excellent trails at Birch Hill, Chena Hot Springs Resort, Chena Lake, Chatanika and the University of Alaska at Fairbanks campus.
The Hatcher Pass area near Palmer, a 90-minute drive from Anchorage, offers abundant backcountry skiing and snowboarding opportunities. Expert skiers seeking real adventure might want to try helicopter skiing in the coastal and Chilkat mountains based out of Juneau and Haines. Heli-skiing is also available in Girdwood, 40 mi/64 km south of Anchorage.
In Alaska, miles/kilometers of untouched powder are just waiting to be explored. We do not, however, recommend this activity for the novice skier, as powder skiing is much more difficult than downhill cruising on a groomed trail. Check with the various experienced helicopter-tour companies in Anchorage, Juneau or Valdez for information.
Surfing
Although Alaska is not known for its "killer surf," there are more than a few locations where the North Pacific pounds ashore on wide, sandy beaches. The somewhat isolated native village of Yakutat—between southeast Alaska and Prince William Sound—actually has a local surf shop because of the number of visitors who want to surf its spectacular waves.
Other Options
Dogsledding is still an important way to get around northern Alaska in the winter, and most northern communities offer wheeled sledding during the summer season. Combined dogsledding and helicopter glacier tours are available in Juneau, Skagway and on the Kenai Peninsula. These popular tours are pricey but memorable.
Alaska is a birder's paradise. From St. Paul on the Pribilof Islands in the Bering Sea to the Copper River delta and the Chilkat Bald Eagle Preserve in Haines, birds abound in the numerous lakes, streams and coastal estuaries of Alaska. Bird-watchers will enjoy the activity at Nome, Wrangell, Barrow, Potter's Marsh in Anchorage, Creamer's Field in Fairbanks and the Mendenhall Wetlands in Juneau, among other sites statewide.
Shopping
Shop for mukluks (Inuit boots made from sealskin and reindeer hide), smoked salmon, beadwork, basketry, gold and jade jewelry, silver bracelets with totemic designs, bark baskets, ivory and whalebone carvings, knitted clothing (especially qiviut wool combed from the musk ox) and other representative examples of Alaska Native arts and crafts. Many travelers also buy an ulu, the curved knives traditionally used by Alaska Native women to prepare hides, cut up and clean fish, and prepare everyday meals. Carved Alaska Native masks, totem poles, and ceremonial paddles are also popular. Unique but expensive baleen baskets are fashioned from the filters inside a whale's mouth.
Be sure to look for the Made in Alaska logo, which indicates that an item is an authentic Alaskan artifact. Another logo, the Silver Hand, indicates that an item was crafted specifically by Alaska Natives.
As for crafts made from walrus ivory, the only products that can be legally marketed in Alaska are items in which the ivory used is the byproduct of subsistence hunting. Only Alaska Natives are allowed to process unworked ivory (unless it's fossilized), and gift shops will include a certificate indicating that the item is Alaskan ivory from nonendangered species (though all walrus populations appear to be declining).
Be aware that the U.S. Fish and Wildlife Service requires a special permit (US$75) to export walrus ivory outside the U.S. This applies to visitors who will be traveling through Canada after leaving Alaska, even if their final destination is the U.S. We suggest you avoid any confusion at the Canadian border by mailing the items home—with the certificate—before you leave Alaska. Many shops will be happy to handle the mailing for you.
Shopping Hours: Generally Monday-Saturday 9 or 10 am-5 or 6 pm and on Sunday when cruise ships are in port.
Cruising
And, of course, this article wouldn't be complete if we didn't mention Alaska cruises. Alaska is a cruise destination unlike any other, showcasing a side of the United States that's rarely seen: still truly wild and open to endless adventure. The reasons to go -- and go now -- quickly outweigh the mundane cons of time and money. If you're considering a first-time or repeat cruise to Alaska, booking sooner rather than later will give you the best options and prices.
Alaska is such a large place, you will need a lot of time just to skim the highlights. Do try to include a cruise or ferry-boat excursion in your plans if at all possible. If you're traveling by car, or plan to rent one, you can tour a large part of south-central Alaska by road. To reach the northernmost community of Barrow or the western cities of Nome and Kotzebue, you'll need to fly from Fairbanks or Anchorage.