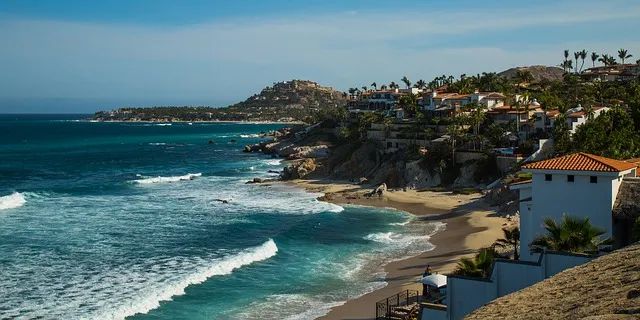 In a land known for its inexpensive travel destinations, Cabo San Lucas, Mexico, is one of the priciest—and one of the most popular—as travelers are willing to pay handsomely for what the area has to offer: fine beaches, world-class restaurants, sumptuous resorts, excellent golf courses, lively nightlife and some of the best sportfishing in the world.
Los Cabos, the name Mexican tourism officials bestowed upon two once-remote Baja California communities—Cabo San Lucas and nearby San Jose del Cabo—are connected by a stretch of coast, known as the Corredor Turistico (Tourist Corridor), that saw rapid development beginning in the 1990s. The high-tone resorts it contains are sought out by Hollywood's A-listers. John Travolta, Jennifer Aniston, George Clooney, Susan Sarandon, Brad Pitt, Reese Witherspoon, and Britney Spears are among its visitors, celebrating birthdays at its reclusive and exclusive hideaways.
Visitors from abroad often find Cabo San Lucas—and the whole Los Cabos area—one of the most Americanized resorts in Mexico with English as common as Spanish, many expatriates running businesses, and prices on restaurant menus, in shops and in bars given in dollars instead of Mexican pesos. The Baja port also receives several cruise liners a week, which has spurred the building of the strip malls and eateries around the marina.
Get the full scoop on Cabo in our comprehensive report All About Cabo San Lucas, including:
Lots more to see & do
All kind of delicious dining places
Exciting events
Tips on safety, dos & don'ts, tipping, weather, what to wear, etc.
Tons of Hotel info
Fantastic excursions
More!
Click here for the full report.
Sights—Romantic sunsets over Land's End and El Arco; driving the Eastern Cape Road to Todos Santos in a rental car and finding isolated beaches; the shops along Calle Zaragoza and Boulevard Mijares.
Memorable Meals—Traditional Mexican fare and creative tequila drinks at the colorful Mi Casa in the heart of Cabo San Lucas; incredible lobster at Lorenzillo's; an epic meal in a spectacular setting at El Farallon.
Late Night—Dancing the night away at frenetic El Squid Roe or The Giggling Marlin; shaking to the rhythms at Passion Nightclub or Pink Kitty Cabo; chilling out at Barometro; catching a glimpse of rock's elite at Cabo Wabo.
Walks—Strolling the marina or Playa Medano; picnicking at Playa del Amor after exploring the trails; vestiges of Old Mexico in downtown San Jose del Cabo; traversing horseshoe-shaped Bahia Santa Maria.
Especially for Kids—Whale-watching, swimming with dolphins, riding glass-bottomed boats, snorkeling and other activities organized by child-friendly resorts.
Cabo San Lucas and San Jose del Cabo, as well as a 20-mi/32-km stretch of shoreline,  called the Corredor Turistico (Tourist Corridor) that connects these two towns, combine to make the Los Cabos region.
The four-lane highway traversing the Corridor parallels the coast and is lined with upscale resort developments and golf courses. Los Cabos lies at the southern end of Mexico's Baja California Peninsula in the state of Baja California Sur. The dramatic juxtaposition of desert against the blue waters of the Pacific Ocean and Sea of Cortez is striking.
The Baja Peninsula is bounded to the west by the Pacific Ocean and to the east by the Sea of Cortez, which is also sometimes called the Gulf of California. Los Cabos' most distinctive geographic feature is El Arco, a wave-cut arch, and headland jutting out into the sea at Land's End, the tip of the Baja Peninsula.
Note: Some businesses in Los Cabos are located on unnumbered streets and labeled as "s/n," or sin numero (without number). Most taxi drivers are able to recognize places by their names.
Seafarers have long been attracted to the shores of what is now Los Cabos. In the late-16th and early-17th centuries, legend has it that notorious English seafarers such as Sir Francis Drake and Thomas Cavendish concealed themselves in the bays and coves along the southern coast of the Baja Peninsula, slipping out to ambush passing Spanish galleons. Later, Spanish missionaries attempted to convert the Guaycura and Pericu natives, but by the early 1800s, European diseases had decimated the indigenous population.
After the missionaries moved on, the rocky spires and arches that characterize the southern tip of Baja went pretty much unnoticed until after World War II. That's when private planes began flying in celebrities—Bing Crosby and John Wayne among them—to go deep-sea fishing. Because the area was remote and difficult to reach, it remained the private hideaway of a few well-heeled travelers until the 1970s, when the Mexican government completed the Transpeninsular Highway.
The highway gave Californians a straight, 1,060-mi-/1,705-km-long shot to the tip of Baja. This improved access and the area's beautiful setting made it a natural pick when the Mexican government went scouting for resort sites, and construction has been going on in earnest since 1976.
Today, Cabo San Lucas and the Los Cabos areas are internationally renowned tourist destinations that attract more than a million visitors each year. All this development has brought prosperity to the region, as well as crowding and environmental concerns.
Iglesia de San Lucas, Cabo,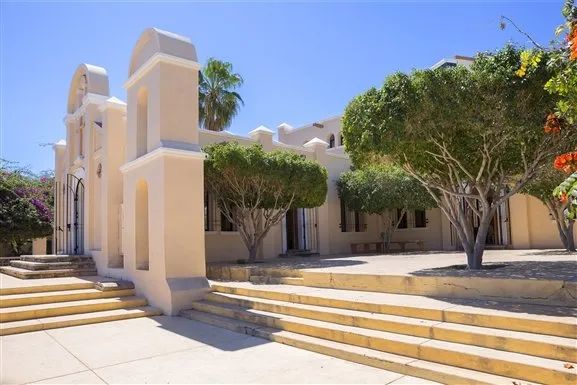 Iglesia de San Lucas
This landmark church was built in 1730 by Spanish missionaries. The inside is pretty Spartan, with a few statues and Stations of the Cross, but if you're lucky enough to attend a Mass, you can see how it springs to life. The picturesque courtyard that surrounds the church is also worth checking out—it's filled with vendors selling food, art, and souvenirs. A bilingual Mass is held on Sunday at noon.
Cabo San Lucas's main attractions are its beaches, golf courses, and lively bars and nightclubs.
Several of the luxury hotels, especially those along the Corridor, were designed by well-known Mexican architects and are worth visiting for their innovative and spectacular designs.
The area's biggest natural draws are the gray whales that arrive each winter from their Arctic feeding grounds. Tour operators in Cabo San Lucas offer a variety of options for getting up close and personal with these giant marine mammals.
Those wishing to explore the Baja's history and culture can do so at the Cultural Pavilion in Cabo San Lucas. Near the marina, it has a museum, library, shops, restaurants, an open-air theater with 1,130 seats, a main theater with 740 seats, administration offices and, eventually, a hotel. It hosts international exhibitions and large performances. Otherwise, visitors can make side trips to towns such as San Jose del Cabo, Todos Santos, and La Paz, which have historic areas, museums, and a more authentically Mexican atmosphere.
For a look at what Cabo San Lucas was like before the development, drive northeast of San Jose, past the Puerto Los Cabos complex and up the Eastern Cape Road. You'll soon leave modernity behind and discover tiny, paradisiac beaches and little towns such as Los Frailes, Los Barriles, Cabo Pulmo and, after 60 mi/97 km, the town of La Ribera. Much of the road is dirt, but it's passable for passenger vehicles except after heavy rains.
Cabo Whale Watching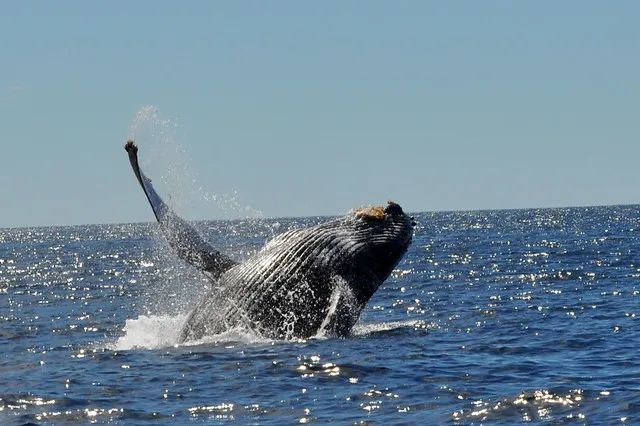 Zoos & Wildlife:
Whale-watching in Baja California is some of the world's best. Blue, sperm and especially humpback and gray whales winter off Cabo San Lucas late December-March. The California gray whale migrates from the Bering Strait to breeding grounds in secluded lagoons on the Pacific side of Baja, and some continue on to the Sea of Cortez.
Most party or sunset cruises offer two- to three-hour whale-watching tours in the winter (usually mid-December to March).
If you're really serious about whale-watching, charter a sportfishing boat and ask the captain to take you to the hideouts of these and other cetaceans, several of which are just off the coast. You needn't necessarily go out on the sea to spot whales, although your chances of spotting the magnificent creatures do improve out on the water.
When the whale migration is at its peak (usually in February), you can easily spot whale spouts from any clifftop in the Corridor or from the beach in front of the Solmar Suites hotel.
Bird-watching is available in the San Jose del Cabo estuary. It has hundreds of birds, but no organized bird-watching excursion; however, there is a path around it that you can easily walk on your own.
Cabo Expeditions:
This well-established whale-watching outfit uses small Zodiac boats that lie flat in the water and can motor close to the migrating creatures. Certified by the U.S. Coast Guard because of their safety, the Zodiacs carry no more than 15 passengers including a marine biologist as a guide. Private charters are also available. Snorkeling, stand-up paddleboarding (SUP) and sea-trekking are additional programs.
Cabo Dolphins:
This state-of-the-art dolphin center, designed by noted architect Enrique Norten, is at the Marina Cabo San Lucas. This interactive experience allows you to swim and play with Pacific bottlenose dolphins and learn about their physiology and environment.
Daily from 9 am. Hourly dolphin programs begin at 9 am Monday-Friday, 10 am Saturday and Sunday. The last program is at 4 pm Monday-Friday and at 1 pm on Saturday and Sunday.
Recreation:
Water and land activities include beaches, boating, and sailing, fishing, golf, health clubs, hiking and walking, horseback riding, scuba diving, snorkeling, surfing, and swimming.
Spa treatments have gained much favor, particularly at Corridor resorts.