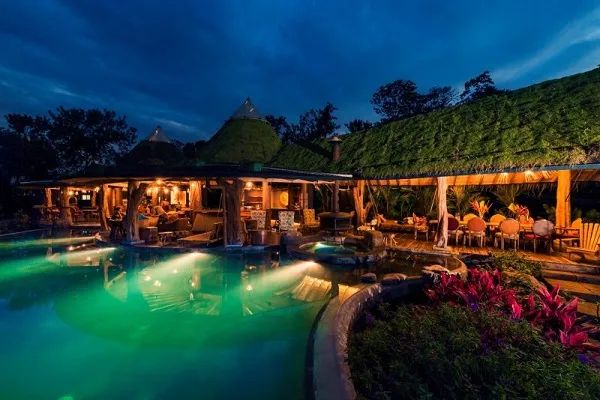 Costa Rica's diverse natural landscape, coupled with an abundance of outdoor activities and a focus on environmental sustainability and preservation, make it no surprise that the country has been rated as one of the happiest places on Earth.
Visitors can fly through the rain-forest canopy on a zipline, go white-water rafting, climb a volcano, relax on a white-sand beach, check out colorful marine life while snorkeling, or try to hook a big one on a deep-sea fishing excursion. That's why so many people choose to go there: In the past decade, the number of visitors has more than quintupled, and tourism has become the leading sector of the nation's economy.
Costa Rica is practically synonymous with ecotourism—travel that incorporates education about the environment and promotes preservation of natural resources. The country has a large number of national parks and nature preserves that boast a rich array of birds, mammals, reptiles and rain-forest plants. The variety of birds, in particular, is astounding: Some 850 species are packed into a relatively small area.
The country also excels in adventure sports, including surfing, mountain biking, river rafting, hiking and scuba diving. Those who prefer a less strenuous vacation can view several active volcanoes, take boat trips down jungle rivers and float through the treetops in a rain-forest aerial tram or speed through the forest canopy on any of several dozen thrilling zipline systems.
Geography
Costa Rica is a small country—just 75 mi/120 km separates the Pacific Ocean from the Caribbean Sea at the narrowest spot—Costa Rica still has some of the most diverse scenery in the world. Its coasts have both sandy beaches and marshy swamps, and its interior is dotted with volcanoes and rugged mountain chains, dense rain forests and abundant, unusual flora.
Its geographic diversity and elevation, ranging from sea level to more than 13,000 ft/4,030 m atop Cerro Chirripo, have blessed the nation with 12 distinct life zones. The most secluded area in Costa Rica is the Oso Peninsula in the southern part of Puntarenas Province. It is true jungle rain forest, and it has one of the most diverse ecocultures in the world. It is difficult to traverse, and tourists have to receive permission before they are flown in to visit the area.
Approximately 25% of the country's land has been set aside in protected areas, earning Costa Rica a reputation as an environmentally sensitive country and leader in ecological conservation. However, nonprotected areas have not fared so well: During the past few decades, Costa Rica has had one of the highest rates of deforestation in the world. The country is now coming to terms with the large resorts being built to serve the growing numbers of travelers and a condominium construction boom that has been spawned in its wake.
History
Columbus first saw this portion of Central America in 1502 during his last trip to the New World. But Spanish settlement did not begin until the mid-1500s because early expeditions were beset by disease and resistance from the indigenous people. The Spanish did find some gold in the area—inspiring the name Costa Rica (Rich Coast)—but not the large reserves they sought.
Colonization proceeded slowly along the east coast until the Spanish finally moved to the cooler, fertile valleys and mesas of the interior, known as the Central Valley. The predominantly mountainous terrain kept the plantation system, with its attendant slavery, from developing in Costa Rica (an exception was the far northwest plains). Instead, the colonists gathered near the indigenous communities and built small-scale subsistence farms. Towns grew slowly and evolved intense rivalries for political dominance.
Such independence and self-reliance are thought to be the reasons democracy came more naturally to Costa Rica than to its neighbors when the country gained its independence in the early 1820s. Brief civil wars erupted among the major cities in which the more liberal forces of San Jose emerged victorious, moving the country toward fair, democratic elections in the late 1800s and establishing San Jose as the undisputed capital.
In the 1940s the country became politically polarized, and civil war broke out once again. After a brief struggle, socialist insurrectionist Jose Maria "Don Pepe" Figueres emerged as the country's leader. He continued to be a central figure in Costa Rican politics through the 1970s, overseeing reforms that helped keep the country peaceful and prosperous in a region known for its armed conflicts and wretched poverty.
Costa Rica abolished its military in 1948 and invested in education and public-health facilities, actions that helped prevent a flood of rural poor into the major cities. These measures have prompted many to view Costa Rica as a model Latin American country, although it has had its share of economic problems that accelerated in the 1980s and continue today. Costa Rica has cut back on its extensive social programs to deal with a large national deficit, massive internal debt and a massive influx of Nicaraguan refugees and unemployed. Costa Rica has, in illegal Nicaraguan neighbors who are seeking the "Costa Rican dream," a problem similar to that of the U.S. with illegal aliens seeking the American dream.
The tourism boom that began in the 1980s has brought rapid development to much of the country. Nonetheless, Costa Rica's democratic system has been challenged by corruption and cronyism—several past presidents have been indicted. In 2006, former President Oscar Arias (winner of the 1987 Nobel Peace Prize) was re-elected president after successfully lobbying for a constitutional change permitting presidents to serve more than one term. In 2010, Costa Rica elected its first female president, Laura Chinchilla. Luis Guillermo Solis succeeded her in 2014, and in 2018 Carlos Alvarado Quesada was elected.
Snapshot
The main attractions of Costa Rica are amazingly diverse natural beauty, wildlife, bird-watching, black- and white-sand beaches, deep-sea and river fishing, scuba diving, snorkeling, casinos, surfing, white-water rafting, volcanoes, horseback riding, good restaurants, world-class resorts and spas, and its friendly, well-educated people (often known simply as Ticos).
Those who enjoy exotic plants and animals and those who participate in outdoor activities will get the most out of Costa Rica. To observe the country's varied forests, visitors need to be moderately fit and comfortable with the claustrophobic, often damp jungle environment, or with the hot, dry conditions of the forests in the province of Guanacaste to as far south as northern Nicoya Peninsula.
Port Information
Costa Rica has two cruise terminals. On the Caribbean side, ships dock at Puerto Limon. The Puerto Limon terminal has its own crafts market with more than 100 artists, phones, a pharmacy and salons offering manicures, pedicures and massages when a cruise ship is in port. Taxis are available both inside and outside the terminal gates. Only one block from the town's main square, the Limon port is well-located for exploring on foot. A selection of shops, restaurants and Internet cafes is within a 10-minute walk of the port.
On the Pacific, ships dock at the cruise-ship pier in Puntarenas City. A tourist information center and an air-conditioned waiting room offering international call service, a bank and a snack shop are located directly in front of the dock. Cruise visitors are greeted by tour companies promoting trips to popular destinations and a wall of vendors selling arts and crafts along the boardwalk. The town is small enough to explore on foot. A walking map is available at the tourist information center. Outdoor restaurants and cafes are just steps from the dock, many of which line the boardwalk, known as the Paseo de los Turistas.
About one quarter of arriving ships dock at the container port of Puerto Caldera, 8 mi/13 km south of Puntarenas City. This dock is primarily used when a transfer is involved. Principally a container-ship terminal, Caldera has few facilities for cruise passengers. A tourist information center offering international phone service is open when a ship is in port. Taxis are available.
Cruise-ship passengers can choose from two dozen or so exciting shore excursions. On the Caribbean, the most popular offerings include nature excursions along the canals leading to Tortuguero National Park (cruise-ship time limitations prevent full tours of this very isolated national park); tours of the Costa Flores horticultural farm; a ride on the Rain Forest Aerial Tram; trips to the Caribbean surfer capital of Puerto Viejo or the heavily Caribbean-influenced Cahuita; a visit to the Veragua Rainforest Research and Adventure Park; and white-water rafting on the Reventazon River.
Passengers arriving at Puntarenas City or Puerto Caldera are typically offered day trips to San Jose, and to Poas Volcano and Sarchi (the center for crafts); a catamaran excursion to Isla Tortuga; a ride on the Pacific Aerial Tram; a trip to Jaco to enjoy its surfer culture; and a hike in Monteverde Cloud Forest Reserve or Manuel Antonio National Park.
Potpourri
You're likely to notice that plastic-surgery and medical vacations are advertised heavily as a tourism option in Costa Rica. If people you know return from a trip to Costa Rica looking younger, healthier and particularly refreshed, it may be that they went under the knife.
Costa Rica has a rich mix of races and ethnicities. Two of the nation's heroes are NASA astronaut Franklin Chang, a Costa Rican of Chinese ancestry, and Olympic swimmer Claudia Poll, whose parents emigrated from Germany. Poll won the first gold medal in the country's history at the 1996 Summer Olympics in Atlanta.
Ticos take a little bit of nature into their homes with pets (a lot of birds) and flowers and plants. Even the simplest home will have pots of flowers and plants in the yard.
In the 1850s, Costa Rica was invaded by an army led by American William Walker, who had earlier taken over Nicaragua and hoped to rule all of Central America. A hastily convened and poorly equipped Costa Rican army defeated Walker's forces, spoiling his plans of empire and leading to his eventual demise.
Hotel Capitan Suizo in Tamarindo has a program to rescue orphaned howler monkeys, nurse them back to health and protect them from predators in special open-topped cages at night. Two troupes of howlers visit the hotel regularly, and during those visits, the orphans play with the other babies from the troupe and then retire to their cages when the others leave. Once the orphans regain their strength, they should be adopted by one of the groups.
Costa Rica was the first country in Central America to grow coffee (in 1808) and bananas (in the 1870s). Coffee is often referred to in Costa Rica as grano de oro, or grain of gold.
The most mysterious relics of pre-Columbian culture are the perfectly round stone spheres—up to 6 ft/2 m in diameter—that are scattered throughout southern Costa Rica in the Diquis Delta archaeological zone. Archaeologists can explain almost nothing about them. The spheres are under consideration as a UNESCO World Heritage site.
The seed from a guanacaste tree is unusually large, round and hard and has a glossy sheen. Costa Ricans believe that to give someone one of these seeds brings good luck to the recipient of the gift. The recipient in turn gives the seed to another person to bring good luck to that person.
Hotel Overview
Many of the accommodations outside of the cities are geared to the ecotourist, but that doesn't necessarily mean they're rustic.
Accommodations range from safari-style tent camps to nature lodges in the forest to tropical beach resorts that provide sportfishing and other marine activities. Many of these are small-scale operations with fewer than 40 units near parks and refuges. They're more compatible with the local environment than large-scale resorts and provide a more intimate and meaningful experience for travelers.
We recommend using tour operators and hotels that actively support conservation efforts: Look for the CST icon, which indicates the Certificate of Sustainable Tourism. This will help protect the local ecology and promote sensible development.
Costa Ricans are justifiably proud of their efforts to protect the environment for future generations and to promote sustainable tourism. The Institute of Costa Rica Tourism (ICT) awards hotels up to five "leaves" (certificates) to recognize how successful they are in supporting the concept of sustainable tourism. Competition for these awards is very intense, and hotel staffers point with pride to the leaves that their hotel has earned.
There are also a number of first-class tourist facilities and all-inclusive beachfront resorts, and those numbers are on the rise. There is a boom in luxury hotels and resorts, especially throughout Guanacaste province, Quepos and the Arenal volcano area.
Costa Rica also boasts a bevy of fine spas and yoga retreats plus dedicated sportfishing lodges. Besides dozens of nature lodges, Costa Rica's other strong suit is its selection of charming upscale boutique-hotels for the connoisseur of fine decor and dining.
At budget properties, rooms of different quality may be offered at the same price. Before checking in, ask to see the room (some of the cheaper places can get pretty bad) and don't be shy about asking for a better one. Bed-and-breakfasts are becoming more prevalent, as are long-stay condominiums, with many found in the San Jose and Escazu areas. Accommodations can be difficult to get December-March, especially at Christmas and Easter, so book well in advance.
Read more in our All About Costa Rica destination guide.