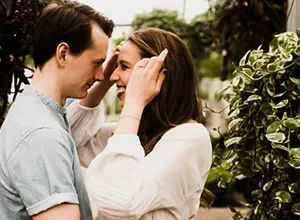 How to Double the Romance in Your Romantic Getaway
January 9, 2020
February's coming up next month and that means couples the world over will be turning their attention to l-o-v-e. What will you do for your sweetheart on Valentine's? Thinking about a romantic getaway for a couple of days? Or maybe you're planning a honeymoon or anniversary trip sometime this year.
Whichever the case, we've brewed up a few ideas to help you shake off the stresses of everyday life, reconnect with your loved one, and make this time together doubly special…
Add an extra-personal touch
Sure, you can order the standard rose petals scattered about your hotel bed, or the bottle of champagne delivered to your room. But how about making this celebration even more memorable?
If you've visited the destination before, you could enlist the hotel concierge to help you enlarge some of the photos from those previous trips and have them placed about the room before arrival. 
If you're not into rose petals spread on the bed, you could have a whole bouquet (or more) delivered to your room at an appointed time
How about having the restaurant where you'll be dining place a bouquet of the types of flowers used in your wedding as the centerpiece?
You could also arrange for the restaurant to play your wedding song in the background as the waiter delivers a bottle of your spouse's favorite wine to your table.
Surprise, surprise!
Most people love surprises, and here are a few that will go a long way to scoring points with your significant other. Just imagine the look on your dear heart's face when presented with...
Their favorite breakfast in bed
A romantic sunset cruise
A fun art or cooking class you can take together
A private, candlelight dinner on your room balcony
A pampering spa treatment or couple's massage
A gourmet picnic on the beach or in a beautiful park
Purchase something your loved one would enjoy using on your trip together. Then hide the gift in your travel partner's suitcase so he or she discovers the item while unpacking. Gifts we recommend are guidebooks, candy, a new sweater, binoculars or a novel by his or her favorite author.
Unplug
Keep the romance in your romantic getaway by being present with your partner. Meaning, turn the TV, laptops, tablets, phones and other electronic gadgets off. Being on the phone takes your attention away from each other, and that's definitely not what a romantic trip is about.
If you have to check email for work, set one or two times a day for 15 minutes. This will force you to handle only what's needed. You can catch up on the rest when you return to your busy life. You'll be especially glad you set aside this time just for each other.
Tune in
Try a new activity together. Have you ever gone hot air ballooning? horseback riding on a beach? Taken an ATV ride to spot local wildlife? Tried a spirited, Latin dance lesson? Doing something that takes you both out of your comfort zone a little can draw you closer together.
Make sure you enjoy each other. Don't schedule yourself so heavily with activities that you don't have time to just be together.
Think about your loved one and put them first. Making their trip memorable will make you feel better than anything you could do for yourself.
Whether you jet off to an exotic location or choose a special place just down the road, a couple's vacation is one of the most romantic things you can do together. We hope these tips will help make your romantic getaway an experience you'll remember for the rest of your lives.