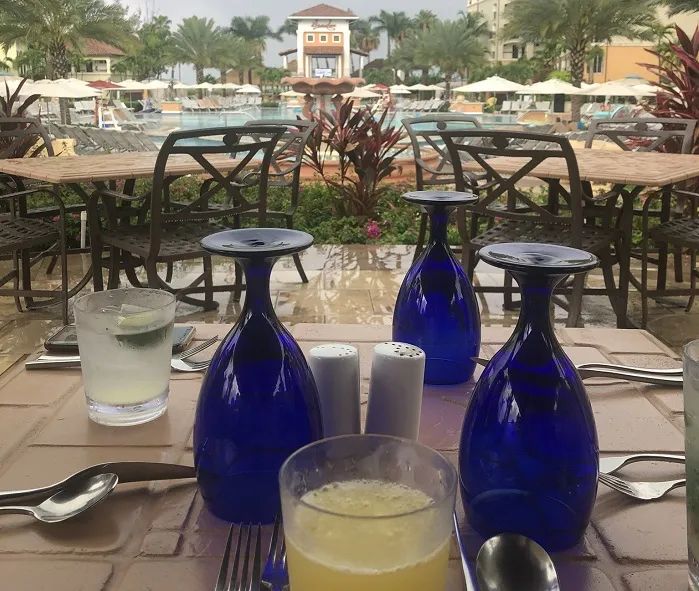 The airport is nice, small and really close to the resort, about 15 minutes' drive. The shuttle to the Beaches resort is seamless and easy. However, on the return, Beaches schedules a departure that is, in my opinion, way too early -- they say you have to be at the airport 3 hours prior to departure. We had to put our bags out by 8 am and then be on a shuttle at 9:30 am for a 12:30 pm flight.
I would suggest travelers check to see if they can schedule a later shuttle if it is to their benefit. In our case, this was way too early to be at the airport -- it took us less than 10 minutes to get through security so we had a long wait for our flight. And if your flight is delayed, as was the case for us, you have an even longer wait.
Italian Village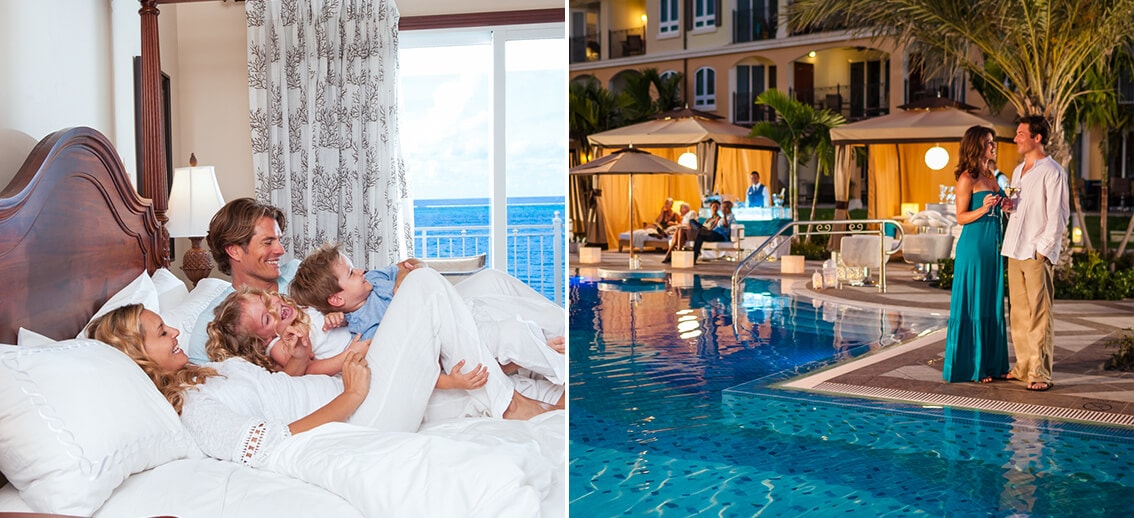 Italian Village, Beaches Turks and Caicos Resort
I was given a room in the Italian Village. This property is centrally located and close to the Pirates Island Water Park and the largest pool on property. It's also very close to the beach.
The Family suites are spacious with a separate children's bedroom furnished with two bunk beds, a trundle bed, a sink and mirror, and lots of closet space.
The adult bedrooms are large and airy, with a great king bed and sliding door opening onto either a balcony or patio. There's also a sizeable, fully-stocked refrigerator, and you can call the concierge to ask for your special selections, such as diet pop, Sauvignon Blanc, fresh milk daily, etc. Extra closet space here makes it inviting to unpack and stay awhile.
I loved having a room on the ground floor because we could just walk out and be at the pool. It's also nice at night if you're at the bar/pub, you can return through the sliding door -- super convenient. The patio provides a nice, shaded spot to get out of the sun, but still, be able to enjoy being outside.
The room was clean and spacious; however, I think a little more attention needs to be given to sliding glass doors, and shutters as far as cleanliness.
Caribbean village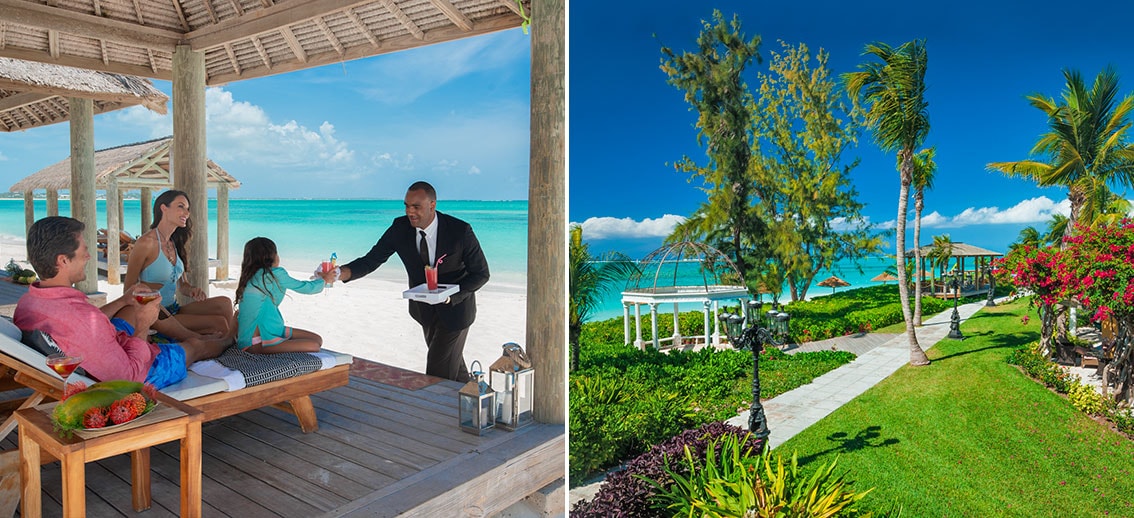 Caribbean Village, Beaches Turks and Caicos Resort
This is the most popular village by far, it is also the closest to the beach. The décor is gorgeous and really goes great with the blue sky and blue waters. This area does have the perfect setting on the boardwalk for pictures.
However, it is noticeably more crowded, the public areas we visited weren't as clean. I asked for a window seat indoors at a restaurant and it had handprint smudges all over it, same with a bar I went into -- I noticed right away that the entry door was very greasy looking.
Seaside Village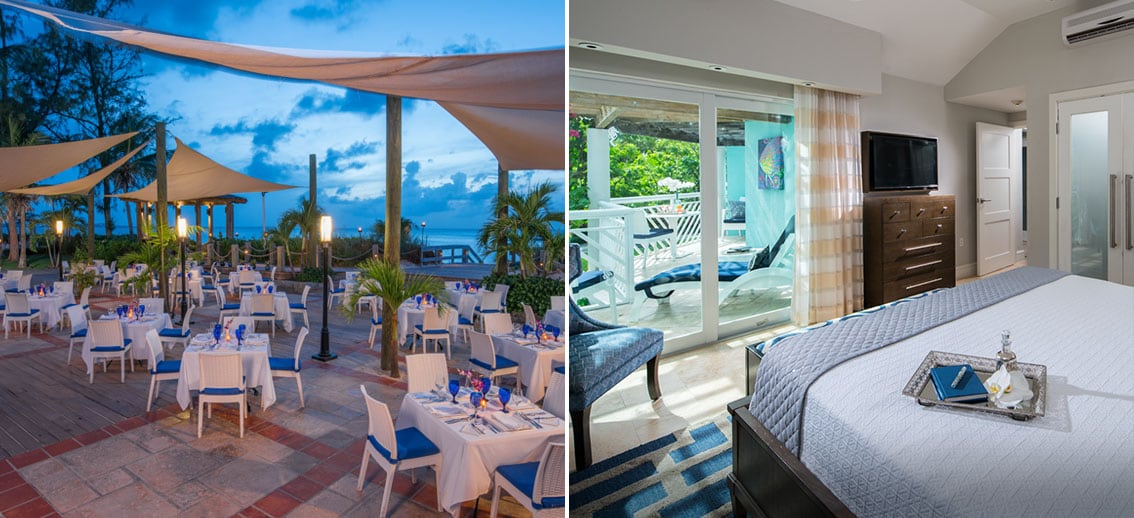 Seaside Village Beaches Turks and Caicos Resort
This village is great for larger families that want a villa setting very close to the beach. A beautiful property!
French Village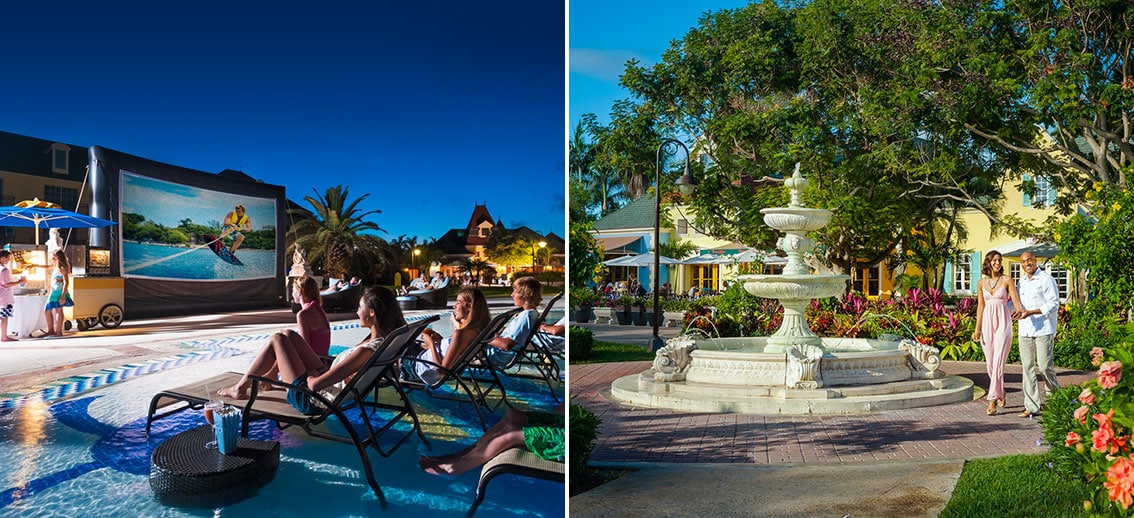 French Village Beaches Turks and Caicos Resort
This village is furthest away from the beach but close to the main stage for acts/entertainment and also closest to the spa/gym. The pool is large but quieter because there aren't as many kids. I think all rooms may only have French balconies, at least as far as I could tell.
Key West Village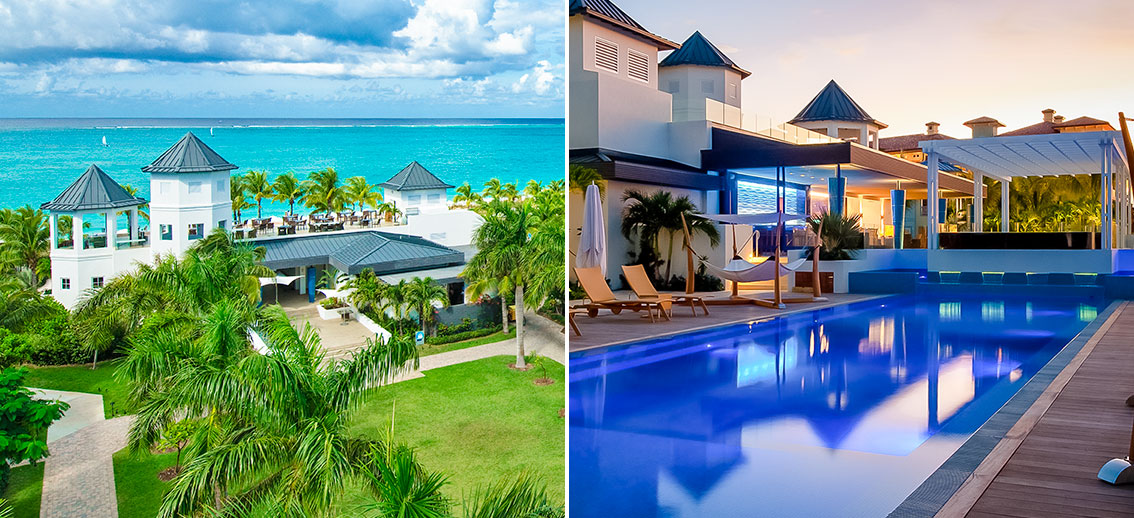 Key West Village, Beaches Turks and Caicos Resort
Love the pretty décor with the blue waters. One of my favorite outdoor restaurants, the Bayside Restaurant and Bar, is in this area. It has great views of the sunset! Seems to have a more laid-back vibe going on with hammocks outside of the accommodation section.
Restaurants
There is definitely something for everyone at this resort -- 89 choices! -- including swim-up pool bars. Most of them serve breakfast and lunch buffet-style, but you can find an option for ordering off the menu.
My favorite for breakfast was a small outdoor venue on the sand by the beach called Barefoot by the Beach. Here, you can order off the menu, but they give you HOT croissants to start and the waffles are amazing! The chef even came to our table to check on us, so to me, that is always a great sign of a good place to eat.
There are options galore for food choices, especially seafood, of course. My favorite, however, is the Mr. Mac Food Truck parked outside of the lazy river pool at the waterpark -- best fried Mac n' cheese balls ever! He serves them every day (so when they say you will gain at least 20 pounds, they mean it!).
There is only ONE restaurant that you need reservations for – the Hibachi Grill called Kimonos. This restaurant is a must! I love all of the variety -- if you want fancy, you can find fancy... if you want pub food, you can find it... if you want ice cream, you can find it... if you want seafood, you can find it. Oh, and of course, PIZZA! You can even order it take out and enjoy it back in your suite. A great late-night snack!
We put a lot of thought into our restaurant choices at the very beginning of the trip (the first night) they do give you a nice restaurant guide and map of the property when you check in to the resort.
Activities/Entertainment
This resort does a great job on this! Every night, at turn-down, you get a pamphlet of the events for the next day. There's always something going on. Lots of games like corn hole tournaments, dance-off, swim-off tournaments, scavenger hunts, tie-dye workshops, water polo, beach volleyball, and so on.
Evening entertainment is great as well – Reggae Night, Casino Night (super fun!), a Jungle Book Show, Fire Show, and more. These appear on the main stage or in various spots around the resort. Karaoke or a singer is usually at the pub later on. They even have a disco place that opens after 9:30 pm (didn't seem to make it there) but I think you had to be 18 and over.
The entertainment TEAM at this resort does an amazing job day and night. Very talented and funny. Then, there are the beach activities that are included – snorkeling trips, glass-bottom boat rides, sailing, aqua bikes, paddle boarding, kayaks, catamaran rides. These are super fun, but you need to book at least a day in advance for some activities.
Beaches Resort Sea Life Tours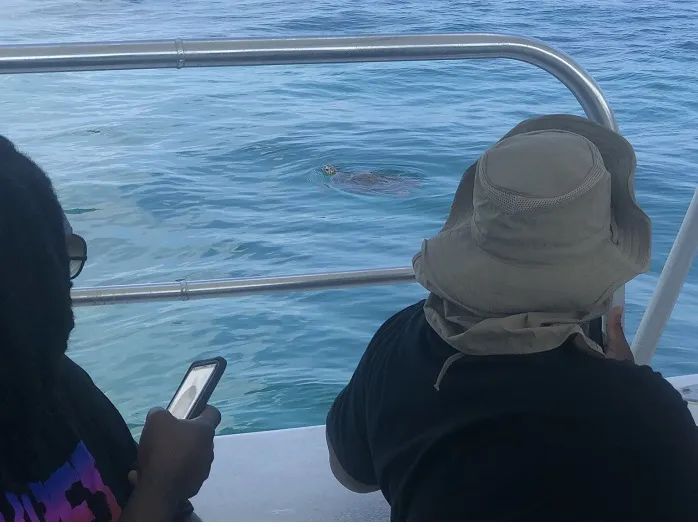 Beach
These beaches definitely do not disappoint -- white sand lapped by turquoise waters -- they're beautiful! Turks and Caicos is home to one of the largest reefs in the world -- an amazing place for snorkelers and divers.
For beachgoers, the turquoise water stretches for miles until it breaks from the reef. Beaches resort is on Grace Bay, one of the prettiest beaches in the world. They provide plenty of beach chairs, umbrellas, and canopies on a first-come, first-serve basis.
And a fun thing they had as well: mesh rings tied down not too far from shore that you can swim to, and enjoy.
Turks and Caicos Island
Turks and Caicos Islands
We were lucky enough to go on a tour of the island -- highly recommended! I don't think anyone would be doing themselves justice if they did not go and explore this most beautiful island! Be sure to check out the visitor's center, which provides a history of the area.
Islanders drive on the left side of the road, and you can see the watercolor change depending on where you go on the island. There's a tourist area, with shops and bars (drinks are expensive – they add on a pretty hefty tax).
The south shore has the prettiest beach I have ever seen in my Life! We went to the highest point on the island and could see the color changes in the water all around us. There are also some amazing houses.
Our tour guide from Paradise Scooters, https://paradisescooters.tc/, was the best! We originally signed up for scooter rentals with a guide, but after we had a lesson, it was obvious that we were not going to make it on scooters (they're a lot harder than they look!). Also, you have to drive on the left side of the road and figure out the turnabouts. Not for the faint at heart!
The scooters would have been fantastic if we'd felt comfortable with them, but the company was very accommodating and scheduled a van tour for us. In the long run, this was the way to go. We learned so much from Ayanna -- a local with a large family! She waved to so many people on our tour who are related to her. She is also the only female on the island who has the paperwork to ride a scooter. She's awesome and she is voted the best tour guide on the island.
We learned so much on this day – about the politics, the struggles, the locals, and got to try out the best beachfront restaurant called the Conch Shack. We even got to see a demonstration of the conch being removed from its shell. Ayanna also let us have a shell and stopped at a local store for us to get bleach to clean the shell. It was awesome!
This island is a great choice for a wide variety of people. You do have to like the water, heat, and humidity because that is a given. You have to like meeting others from different parts of the world – Jamaica, Haiti, and the locals of course.
If you have a young family, I highly recommend Beaches, however, there is the rumor that they will be closing indefinably in January 2021. No one seemed to want to talk about this or really believe it will happen, however, and so I didn't push the subject.
Hopefully, it won't happen and something will take place as Beaches is a great choice for families that want to experience a tropical island but also have many things to do and see while at a resort, and have the all-inclusive experience.
During our (long) wait at the airport, I overheard a couple of families talking about Beaches and both had the best things to say and loved their experience. They both brought large families with them and felt the accommodations couldn't have been more perfect. It was nice to hear. However, I feel this island has much more to offer as I got the sense there are a lot of condos and villas. Also, the beach on the south shore, Long Bay, seems to be the up and coming spot. The Shore Club would be my choice of accommodation for a luxury resort experience if it were an adults-only vacation.
All in all, I really enjoyed my stay at the Beaches. The staff was nice and the grounds were immaculate. My only complaint would be the cleaning of walls, windows, things that go unnoticed until they are noticed. Hopefully, this resort will remain open otherwise they will be selling a lot of prime beachfront property to someone.