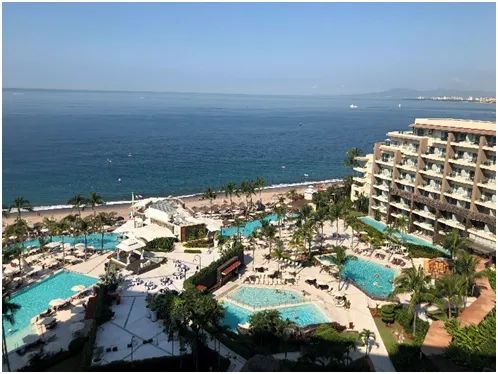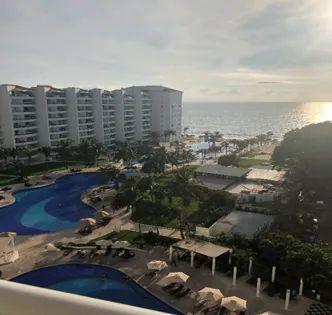 It was an early wake up call on Monday morning to travel to Puerto Vallarta. I had the 6:30am flight out of Billings on Delta. I connected through Salt Lake City and then through Los Angeles (LAX). I forgot how crowded LAX is! It was a long travel day, but all the flights were fairly quick – the longest one was LAX to Puerto Vallarta which was about two and a half hours.
When I arrived in Mexico, I had to go fill out a customs form to go through customs and immigration. I had filled out the Mexican Immigration Form the night before, so that did save me some time. I would recommend that to clients – airlines have copies of the form, but I liked being prepared in advance.
When I cleared customs and immigration, an Amstar representative was waiting for me with a sign. The ride was quick – Dreams Villamagna is in Nuevo Vallarta so it was about 20 minutes from the airport.
Nuevo Vallarta is a new resort area in Nayarit state – the Puerto Vallarta airport is in Jalisco state. When I got to Dreams, I was greeted and escorted to the preferred level check in area. I checked in and got to my room and saw this incredible view!
We did a site inspection at Dreams, followed by a welcome cocktail reception. Dinner was on our own that night – I was so tired from flying all day that I ordered room service and went to sleep!
Day 2: City Tour and Site Inspection at Sunscape
Skeleton decorations for "Day of the Dead"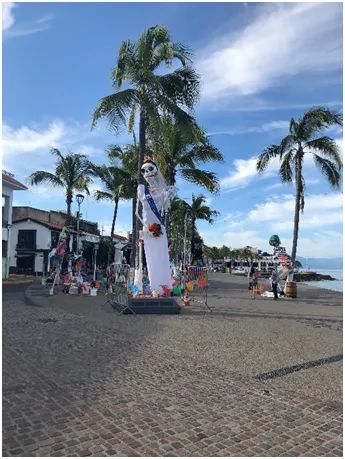 The second day started with a tour of old Puerto Vallarta. We were picked up by Amstar and driven 20 minutes to downtown. We visited right after Day of the Dead so the "Catrinas" or skeletons were still up.
These are now a popular symbol for the Day of the Dead, but historically, they were used in a drawing to the Mexican government to show that their people may look wealthy but were dying on the inside from poverty.
We walked around the Malecon and saw the church, went to Los Arcos and stopped for a picture. Then, we did a tequila tasting. My favorite was the Anejo and the hazelnut flavored tequila liqueur. Then, we were off to the Sunscape resort for lunch and our site inspection.
Incredible View From Sunscape Resort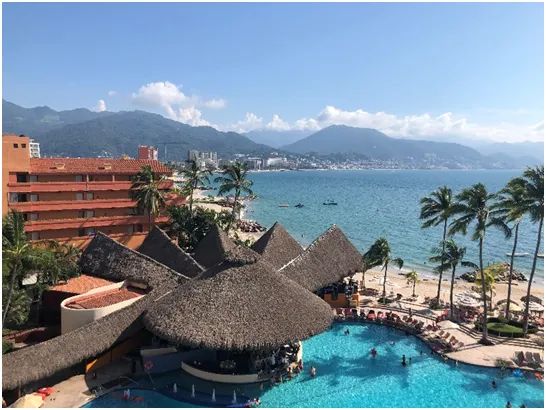 Sunscape is located on a beautiful beach with a spectacular view of the Sierra Madre Mountains. The location really cannot be beat.
The site inspection revealed that the rooms are dated. The resort caters to young families and couples and some rooms have a separate room with bunk beds for kids.
Although it is all inclusive, the standard rooms do not get daily mini bar restock or WiFi. Only Sun Club guests receive these amenities, plus access to the private beach.
This resort would work for certain types of vacationers, but it was not my favorite. Again, the location was great though!
The rest of the day was ours at leisure until a group dinner at Dreams. It was our last night at Dreams, so we received farewell gifts and got ready to change resorts.
Day 3: Secrets and Now Site Inspection
Mariachi Band Welcomes Us at Secrets and Now Resorts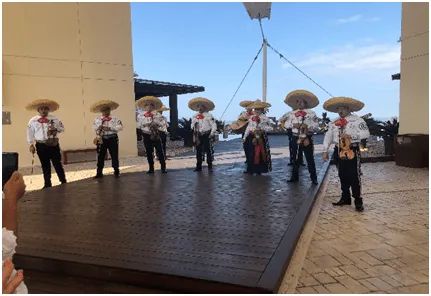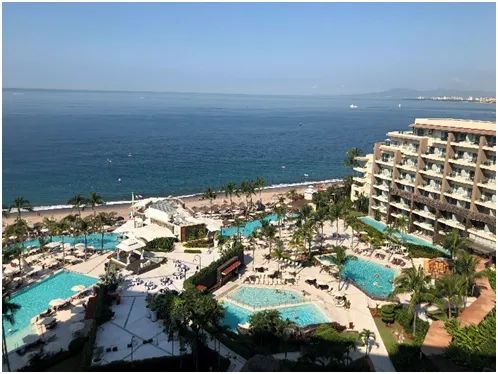 Secrets and Now resorts are right next to each other and share several amenities such as the spa, exercise center, and shopping.
Secrets guests can exchange with the Now Restaurants. Now guests can exchange to the Secrets side, but reservations are needed, and it is for adults only.
The resorts are new builds, so they are fully updated and very nice. I did prefer Secrets over Now but they both are beautiful properties.
After our site inspection, we had a day pass at Secrets to enjoy the pools and the beach. Some of our group opted to go to the spa, but I headed to the beach! The view here was incredible as well.
We got to enjoy a few hours here before we were transferred back to our new hotel. For the rest of our trip, we stayed at Reflect Nuevo Vallarta. We checked in and then went to dinner as a group. We went to the Asian restaurant on property – it was average. Reflect used to the Krystal. It was very clean and comfortable but I preferred staying at Dreams.
Day 4: San Sebastian Day Trip
San Sebastian Historical Site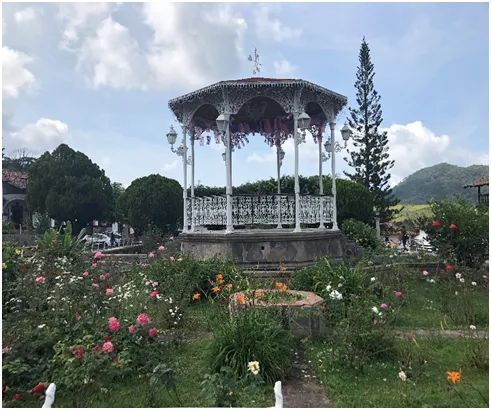 We were supposed to an ATV Tour on our last day. But, some people in our group had health issues and one was newly pregnant, so we opted to do a day trip to San Sebastian.
Vallarta Adventures took care of the new arrangements for us -- very convenient. We checked in early morning for the tour and boarded on our bus for the 2-hour drive to San Sebastian.
Our tour guide, Armando, was very passionate about the history of the area, providing a lot of great details on our ride up there. I am a history nerd, so I loved it!
San Sebastian was founded as a mining town high up in the Sierra Madre Mountains.  It was founded by colonists from Spain and the town is set up in the Baroque Spanish style. The silver mines made this area very popular (silver was the primary ore, but there was also some gold and lead). At one time, more than 25 mines worked the area. It is a "Pueblo Magico" in Mexico – meaning it is a site of historical and cultural significance.
We got to see Hacienda Jalisco, which Elizabeth Taylor visited frequently. We stopped for lunch at a great local place in San Sebastian. It was my favorite meal of the entire trip. We then drove down the cobblestone streets to the town's plaza, where we enjoyed exploring the town at our leisure. There are still some residents of the city, but only around 300. At its peak, there were more than 20,000 people living in the area.
Reflect Nuevo Vallarta Resort at Night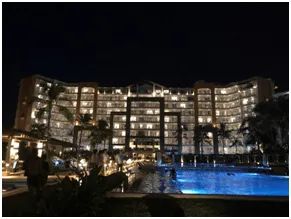 It was a long drive back to Vallarta Adventures after we had toured the city. I would recommend this excursion and it was wonderful to see the history, but it was a very long day.
We got back to the resort about an hour before we had our farewell dinner. Reflect set up a candlelit dinner for us by the beach. It was beautiful and it made us feel very special! The food was outstanding. My favorite was the surf and turf entrée. And the dessert was delicious!
The resort did look absolutely stunning at nighttime. This is one of my favorite pictures!
Day 5: Travel back home
My Amstar transfer to the airport left Reflect at 10:30am. I had the morning at leisure, so I went to the breakfast buffet and walked along the beach. The buffet was very good!
My flights were technically via Delta, but were operated by AeroMéxico. This time, the route went through Mexico City and then Salt Lake City. I am glad I got to experience this because I actually did not like it and I wouldn't book clients this route in the future.
It was confusing for me – I can understand Spanish pretty well but do not speak it well. When I got to Mexico City, I had to find my departure gate and ask for help. I had a tight connection, so I was worried about that as well. When I got to my gate, my boarding passes had to be changed from AeroMéxico tickets to Delta tickets. Also, the flight from Puerto Vallarta to Mexico City routed me further down in Mexico – making the flight to Salt Lake very long.
Final Thoughts:
I really enjoyed this FAM and the opportunity to visit a place that I sell quite a bit. It was great to see the all-inclusive resort experience. I also thought it was helpful to go to Mexico to be able to tell clients about safety. I was alone for all of my travel and a few times at the resort and I never felt unsafe anywhere. The resorts are all gated and everyone on staff was helpful and friendly. It was great to be able to experience the activities as well. I am looking forward for my next trip to Mexico 😊