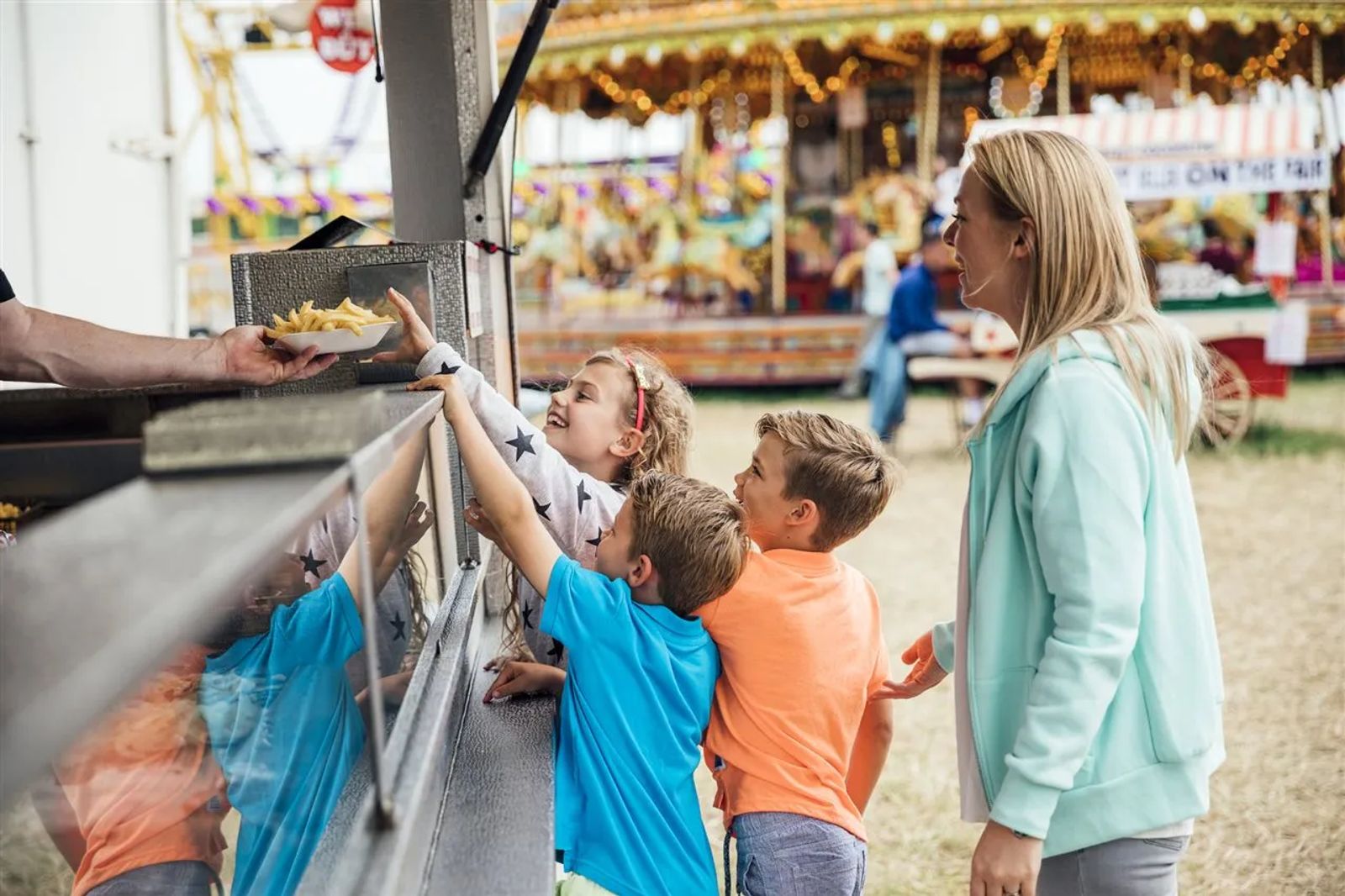 The country's favorite fair foods, region by region
October 9, 2019
Perhaps the main reason most people go to the fair is for the food — delicious, over-the-top savory and sweet items you just can't get anywhere else, whether on a stick or not. In fact, most people are willing to put up with the heat, crowds, expense, and even long lines just for a taste of their favorite fair foods.
Here's a look at some of the most renowned fair treats in the United States. Each region offers its own unique specialties.
Northeast
One of the biggest fairs in New England is The Big E, or the Eastern States Exposition. Though held in Massachusetts, The Big E also represents Connecticut, Maine, Rhode Island, Vermont and New Hampshire. A favorite here is The Big E Cream Puff, a pastry adorned with heavy whipping cream and sprinkled with powdered sugar. They are known to sell over 40,000 each year.
A popular item at the Delaware State Fair is the Delaware Dog, a hot dog piled high with a mixture of seasonings, minced pork, cornmeal and flour known as "scrapple."
At the Washington County Fair in Rhode Island, treat yourself to crispy deep-fried pickle slices, served chilled.
Southeast
In Nashville, the Tennessee State Fair's claim to fame is Deep Fried Goo-Goo Clusters, made of roasted peanuts, marshmallow and caramel, covered in chocolate and deep-fried before being sprinkled with powdered sugar.
While at the Alabama National Fair, visitors can enjoy both traditional and spicy versions of Boiled Peanuts.
At the Florida State Fair in Tampa, you can dig into a Southern Catfish Sundae — French fries topped with fried catfish and served with a tartar sauce or spicy remoulade.
Midwest
Deep-Fried Buckeyes were created for the Ohio State Fair to resemble the state's famed nut: peanut butter dough balls dipped in chocolate, then battered and fried.
The Minnesota State Fair is home to the Pickle Dog, which does not contain hot dogs at all. Instead, it consists of honey ham slices spread with cream cheese, then wrapped around dill pickle spears.
Where else could you get brats made from all sorts of game meat, including elk, buffalo, wild boar, and rattlesnake, but at the South Dakota State Fair?
Southwest
Although you now see them at fairs nationwide, the popular corn dog — everybody's favorite battered and fried hot dog on a stick — was invented for The State Fair of Texas, held in Dallas, back in 1942.
The Honey Pepper Bacon Dog is a specialty of the Oklahoma State Fair. Imagine a frankfurter split open, stuffed with cheese and garnished with bacon, then seasoned with pepper and honey, served on a toasted bun.
At the Arizona State Fair in Phoenix, you can find Navajo Tacos made using traditional Navajo Fry Bread, piled high with ground beef and pinto beans, lettuce, tomatoes, cheese, and chili peppers.
West
For a real kick, try the battered and deep-fried locally grown Pueblo Chiles at the Colorado State Fair, which are served along with cheddar cheese and ranch dipping sauces.
At the Los Angeles County Fair in California, you can enjoy Deep-Fried OREO Cookies — the popular cookie fried in batter, which results in a cake-like consistency, sprinkled with powdered sugar.
For a sweet treat at the Eastern Idaho State Fair, try the Toffee Tumbler made from sweet dough rolled in sugar and baked, then topped with caramel sauce and toffee bits.
These are just a few of the specialties found at fairs around the country every year. What if you can't get enough fair food? What do you do if you're craving fair food, but don't have five hours free to go to the fair? And where can you find these treats if your local fair has already passed you by?
Try the new lineup of Fair Faves at a SONIC® Drive-In near you. Enjoy the OREO® A La Mode for dessert: three perfectly battered and fried OREO cookies create a delightfully hot, gooey and dippable treat served with SONIC's famous Real Ice Cream. Or enjoy a savory, golden Corn Dog followed by Ched 'R' Peppers, spicy jalapenos filled with melty cheddar cheese, breaded and fried, served with Ranch dipping sauce.