Winter Vacation Ideas
December 6, 2019
When the gray skies and bone-chilling temps move in, wouldn't it be nice to slip away to sun-kissed beaches, sultry tropical nights, and pampered luxury?
In this warm-weather destination series, we'd like to share some ideas to help jump-start your winter vacation planning.
First up...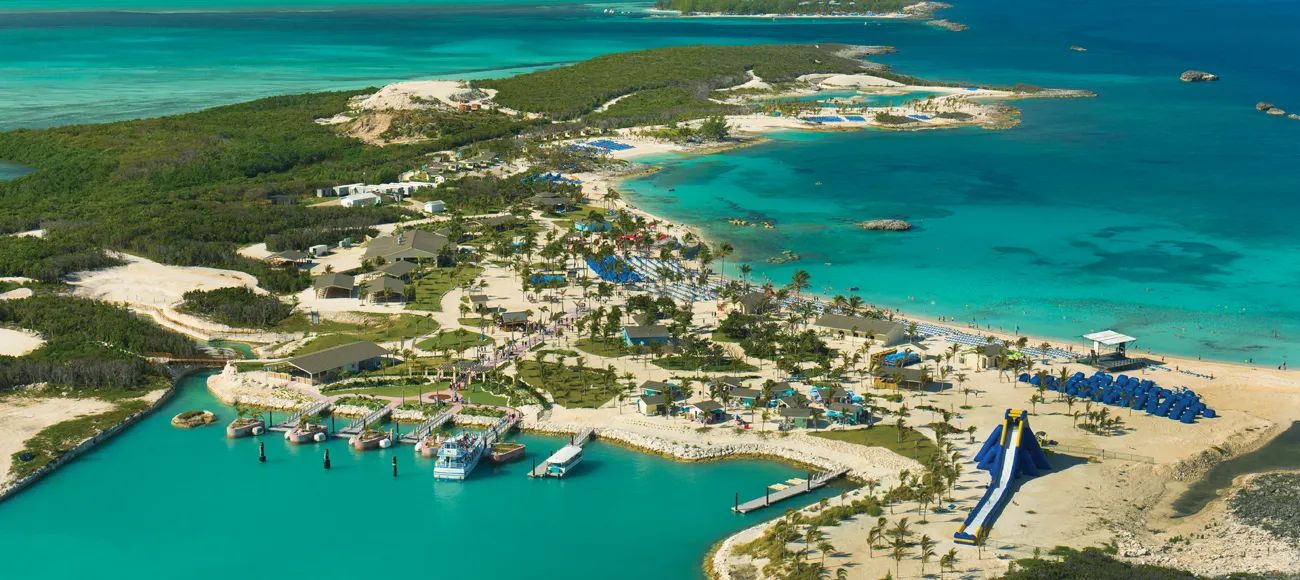 The Bahamas!
When Christopher Columbus first set foot in the New World, he did so in the Bahamas, although the exact island where he landed is still a matter of debate. (San Salvador is the popular favorite, and a white cross marks the spot where he supposedly landed.) He didn't stay long, however, being intent on finding riches that this group of islands didn't seem to hold.
Perhaps he was looking for the wrong things. These days, travelers are quite satisfied with the treasures they find in the Bahamas: brilliant turquoise water, gorgeous sandy beaches, excellent fishing and diving, and surroundings that range from quaint colonial villages to lovely secluded coves.
Those making landfall in the islands can choose from several distinct experiences. Visitors looking for the standard resort amenities should head to Nassau on New Providence Island or Lucaya on Grand Bahama Island. Splashy Nassau, the biggest city and main port, is awash in pink colonial buildings, bustling street markets, upscale chain resorts and great restaurants. Sister island Paradise Island is home to megaresort Atlantis and its opulent casino and fabulous water features.
In Freeport and Lucaya, the Bahamas' second-largest port, options range from frolicking with dolphins to perusing duty-free goods. Downtown Freeport, however, has been in a slump since the hurricanes of 2004 and 2005, leaving Lucaya as the most viable option for vacationers at present.
Those more interested in deserted beaches, sailing, diving, fishing and a generally slower pace will want to visit some of the many Out Islands (also known as the Family Islands), most of which are thinly populated or uninhabited, yet which offer all manner of activities plus a chance to experience charming vignettes of Bahamian life.
Note: In September 2019, Hurricane Dorian inflicted severe damage on Grand Bahama and the Abaco islands. Recovery efforts are ongoing and expected to take months or even years.
Geography
The northernmost island of the Bahamas lies in the Atlantic Ocean, about 50 mi/85 km off the southeast Florida coastline—not in the Caribbean, as is popularly thought. The balance of the archipelago, about 700 islands and 2,000 islets called cays (pronounced keys), spreads south and east toward Hispaniola.
With a total landmass of more than 5,000 sq mi/13,000 sq km spread over 100,000 sq mi/260,000 sq km of water, the Bahamas chain is larger by far than any of the Caribbean island groups and occupies an area almost as great as the Caribbean Sea. Besides New Providence and Grand Bahama Island, only about 30 of the other islands are inhabited.
As for topography, don't expect to see mountains and waterfalls—these islands are very flat. They are also largely dry, lacking any kind of streams or rivers. Because of this, no runoff sediment is deposited into the sea, resulting in the amazingly clear waters that surround the islands, which mostly occupy two shallow marine plateaus separated from each other—and from North America and the Greater Antilles—by deep ocean trenches.
History
The Lucayan Indians had the islands mostly to themselves until Columbus showed up in 1492 and claimed them for Spain. But the Spanish were in search of gold, silver and valuable trade goods, and the newly acquired Bahamian real estate provided few of those things. The Spanish soon moved on without really colonizing the islands.
By the mid-1600s, England claimed the region, and British colonists began to settle New Providence and a few other islands, while pirates used remote coves scattered throughout the vast island chain. Many ships foundered in these treacherous waters. Salvaging shipwrecks became an established part of the local economy, and communities were known to purposely ground ships by lighting beacons.
Beginning in the late 18th century, the history of the Bahamas was closely intertwined with that of the U.S. After the Revolutionary War, British Loyalists moved to the islands from New England and the Carolinas, both to remain under British rule and to escape the patriots' reprisals. They principally settled Eleuthera and the Abacos. Some Loyalists brought African slaves with them and set up smaller plantations throughout the Bahamas.
Later, slaves from the southern U.S. fled to the Bahamas to gain their freedom. During the Civil War, Confederates used the islands as a center for blockade running, and during Prohibition, the islands were a base for rumrunners.
When the Bahamas became independent in 1973, it remained part of the British Commonwealth, and the lasting legacy of the British connection is strikingly felt in Bahamian cultural, legal and parliamentary traditions, language and in the bobby-style uniforms that the Bahamian police officers wear.
African customs, such as the Junkanoo street parades held on Boxing Day and New Year's Day, are also prevalent in modern Bahamian culture. Nevertheless, the islands have been influenced by heavy doses of U.S. tourism and television, which is evidenced by the new architecture, clothing, music and restaurants.
Snapshot
The Bahamas offer a wide choice of attractions including stunning beaches, historical sites, gambling, nightlife, shopping, restaurants and fabulous hotels, plus superb golf, sailing, fishing, snorkeling, scuba diving, sea kayaking and boat excursions.
Visitors who want an island experience in a different country but want to minimize the unfamiliar will probably enjoy the Bahamas. The islands provide a taste of the tropics, but the use of English and the lack of poverty (relative to other countries in the region) will mitigate any culture shock.
Port Information
Location
The Bahamas' main cruise port is in Nassau at Prince George Wharf near Rawson Square, a short stroll from downtown attractions such as the Straw Market (a sturdy two-story concrete structure featuring live music and 400 booths for carvers, food and other authentic crafts), the Pirates of Nassau museum and the shopping on Bay Street.
The huge dock is big enough to accommodate as many as 15 of the largest cruise ships. Work is under way on a new dock that will eventually hold more slips and is part of a redevelopment plan for downtown Nassau that would turn Bay Street into a pedestrian mall.
The Bahamian government has completed a major harbor expansion project to accommodate some of the world's mega cruise ships.
The Bahamas Ministry of Tourism Information Center at the wharf provides maps and touring advice. Also located there is Festival Place, an indoor shopping arcade catering to cruise-ship crowds with local crafts, food, a tour desk where guided walking tours can be arranged, post office, phones and internet access (phone 242-323-3183). Horse-drawn cabs, called surreys, also depart there for guided tours of colonial Nassau. Taxis park near the end of the dock; you can take one to nearby Paradise Island for about US$5-$10, or hop on a water taxi for US$3 each way.
On Grand Bahama Island, the renovated Lucayan Harbour Cruise Facility is located in Freeport Harbor and can accommodate a pair of large cruise ships. The facility has retail and entertainment facilities as well as taxi service. Phone 242-350-8000.
Shore Excursions
Paradise Island is probably the most popular shore excursion among cruise passengers arriving in Nassau; many make a beeline to the Atlantis resort to try their luck at the lavish casino or make a day of the fun-filled Aquaventure waterpark. Cruise lines typically offer an excursion to The Dig, a mock exploration of the lost city of Atlantis, part of the largest open-air aquarium in the world.
Other popular excursions include Dolphin Encounters, an interactive "swim with the dolphins" experience located on Blue Lagoon Island, a private island 3 mi/5 km from Nassau; the interactive Pirates of Nassau museum; snorkeling and scuba diving out of Stuart Cove; and visits to historic Fort Charlotte, the Queen's Staircase and the iconic Government House in downtown Nassau. Cruise ships also will inevitably offer a rum cruise out of Nassau.
On Grand Bahama, typical shore excursions include shopping tours to Port Lucaya Marketplace, beach passes to Grand Lucayan Resort, a visit to Lucayan National Park, nature trips to Rand Memorial Nature Centre and Garden of the Groves, and interactions with dolphins at UNEXSO Underwater Explorers Society.
Excursions change frequently and vary by cruise line, so check before you go.
Potpourri
Conch (a dietary staple, pronounced konk) and love vine (a bush tea) are both believed to have aphrodisiac effects.
The flamingo is the national bird of the Bahamas, and the southern island of Great Inagua is home to the Western Hemisphere's largest breeding colony. The ratio of flamingos to people on that island is 61-to-1.
The name Bahamas derives from the Spanish baja mar, which means "shallow sea."
Geologically speaking, the islands were born of the sea and are made of limestone, which is primarily formed of cemented skeletal remains of trillions of marine organisms accumulated on the seabed over millions of years.
The highest point in the Bahamas—at 206 ft/63 m above sea level—is the peak of Mount Alvernia (locals call it Como Hill) on Cat Island.
Eleuthera still derives much of its income from producing pineapples, introduced from South America in the 18th century. The first pineapples planted in Hawaii came from Eleuthera.
The Nassau Public Library and Museum, located on Shirley Street, was built in 1797. The octagonal-shaped structure once housed more than books: The building was home to Nassau's most notorious prisoners as the city's main jail.
Several companies in the Bahamas will provide everything you need to get married underwater. In some ceremonies, a bottlenose dolphin serves as the ring bearer.
Kalik beer gets its name from the sound made by the cowbells used in the island's Junkanoo music.
A local music genre known as rake n' scrape is where musicians use rudimentary objects, such as nails scraping a saw, played to the beat of catchy island lyrics. Rake n' scrape can be traced back to slave traditions on Cat Island.
Hotel Overview
Accommodations range from deluxe resorts to locally owned bed-and-breakfasts, hotels and inns. We recommend booking ahead. On Nassau, most resorts are clustered on Paradise Island and Cable Beach, where all-inclusive resorts overwhelmingly predominate. Make sure that properties far from the Freeport airport on Grand Bahama Island provide shuttle service, because taxi fares can quickly add up. On New Providence Island, budget travelers will want to be careful when booking the cheapest accommodations, because they have the reputation for being far below standard.
Many mom-and-pop lodges have sprung up on Out Islands such as Abaco and Eleuthera. However, on more remote Out Islands, accommodations are extremely few and usually cater to Bahamian business travelers or family visits. They are often mediocre at best, and almost always expensive. Harbour Island is blessed with boutique-hotels, and Marsh Harbour has a wide range of options of every ilk. Cat Island offers several smaller hotels.
Get the scoop on all of the individual islands in our Bahamas destination report...